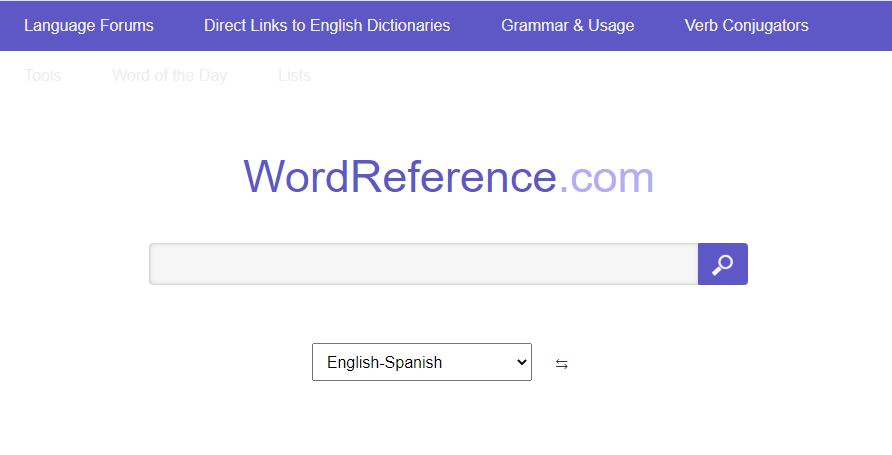 Wordreference is a multilingual dictionary website, which targets reducing the language barrier. In countries like France, Spain, and Italy, English serves as the secondary language to the regional languages, French, Spanish, and Italian, respectively. These three countries are just examples, and this trend or rather, the language barrier affects many such countries.  
In recent years the language barrier has not restricted individuals from traveling to foreign countries. However, a few years earlier, this wasn't the case. Around a decade earlier, most individuals were hesitant about going to foreign countries. With the advent of smartphones, and increasing usage of the English language has led to better understanding among the residents and the tourists.
Origin Of Wordreference
Wordreference was developed in the year 1999, by Michael Kellogg, a resident of Weston, Florida, in the USA. This was when the internet was still striving to become a household name when Michael decided to do something about the language barrier. The biggest issue, according to Michael, was that people did understand some of the foreign languages. However, they didn't understand every word. This is precisely the problem which he was able to solve by creating Wordreference.
Wordreference.com
Wordreference is free to use a dictionary website and has been continuously ranked amongst the most visited sites in the USA and European countries like France, Spain, and Portugal. It is one of the most versatile dictionary websites, which offers pairs of languages, most typical of those are:  
English-Spanish
English-French
English-Portuguese,
English-Italian,
Italian-Spanish,
Spanish-French,
And many more such pairs of languages.
Wordreference has been a pioneer in the field of dictionary website. The regular updates, authenticity, variety, quality, and accessibility make it a great dictionary. Several features that we see on the newer websites and dictionaries were first introduced on WordReference.
User-Interface
Since WordReference is a dictionary, you do not expect it to have graphic content, as it can be highly distractive for the users. Wordreference has a very minimalistic, and precise interface, which is creative enough to be 'not boring' and simple enough to 'not distract' you.
All the options are well laid out and are pretty easy to use. Other features are also placed such that you do not need to look for them on the webpage, thereby saving some valuable time. The maneuverability on the website is also excellent, providing for a smooth experience for the most part.
What All Does Wordreference Offer?
Wordreference offers a host of features that were once considered to be premium but recently have been a standard for most dictionary websites. There is an advantage to WordReference, and it frequently comes up with new features that give it an edge over the other sites.
Forums
A Forum is a platform that offers users an option to have a discussion amongst each other. Often people post guides or ask questions in an attempt to get their queries solved. This might also help out other users.
Initially, Wordreference was the first dictionary website that offered a Forum. However, recently many other dictionary websites have started creating forums on their sites.
The Forum option is available on the top left corner of the website, and once you click on it, you are redirected to another webpage. The forum page is mainly divided by languages.
For Example, the first division is Spanish-English, which has multiple forums, including those of vocabulary, grammar, and terminology. The number of messages and threads are also displayed against each forum, to show the number of users who are using it.
Similarly, there are exclusive forums for several other languages. Also, there are some additional options to the right of the screen. Online staff Members, online users, latest posts, and forum statistics, can be seen.
This forum page can be shared via the following methods: Facebook, Twitter, Reddit, Whatsapp, Gmail, and Hyperlink.
Direct Links To English Dictionaries
There are direct links to some of the most popular English dictionaries, similar to bookmarks on a browser. Just hovering around this option opens a list of different language dictionaries.
Spanish,
French,
Portuguese,
German,
Dutch,
Swedish,
Russian,
Polish,
Romanian,
Czech,
Greek,
Turkish,
Japanese,
Chinese,
Korean,
Arabic.
Apart from the following list of dictionaries, there is a monolingual dictionary that is specific to English. This is great for English readers and scholars. Also, there is another option for synonyms. Synonyms are words with the same meaning or represent the same entity. The Synonyms are also individually available in English.
Grammar And Usage
The third option on the menu is Grammar and Usage, which, as the name suggests, is specific to the English grammar, and its usage. Correct grammar is essential to succeed in English, and this option offers great help in understanding it. Poor grammar can be a handy tool. Similarly, if an individual excels in grammar, but does not understand the importance of using the correct word in a sentence, anything they write will feel grammatically correct but incomplete or blunt.
There are three separate options under Grammar and Usage:
Spanish Grammar and Usage
English Usage
English Collocations
These options are useful and give the users a better understanding of grammar and its usage.
Verb Conjugations
If a verb has been altered from its base or original form, to communicate a change in gender, mood, person, number, or aspect, it is termed as verb conjugation, and the changed verb is called verb conjugator. If you are studying or have ever studied a second language, you might have come across this term several times.
WordReference offers a webpage dedicated to Verb conjugations of different languages. These languages are:
Spanish,
French,
Italian,
English.
On the home page, simply hover over the Verb Conjugators option, and from the list shown below, select the language of your choice.
The best part is that Wordreference does not just clear out your doubts or issues regarding Verb Conjugations. If you are looking to learn a new language, Wordreference ensures that you are provided with a proper understanding of Verb Conjugations, as they play a significant role in grammar.
Tools
Wordreference provides tools that are primarily mobile phone applications, browser extensions, or software. These tools are mainly advantageous because they are much more user-friendly than any website and improve the ease of accessibility. Due to a wide range of platforms and operating systems in operation today, it is necessary to offer these tools to suit users of all such orders. Keeping this in mind, Wordreference has created adequate tools for the following platforms and operating Systems:
iPhone: iPhone is the mobile phone brand of Apple, which operates using Apple's home-developed iOS.
Android: Android is the sole competitor in the mass market when it comes to challenging Apple's iOS. Most companies today operate using Android.
For both of the above operating systems, Wordreference has an app, available to be downloaded from their respective app stores.
Wordreference has also created extensions for the following web browsers, to improve the accessibility, and reach:
Chrome: Chrome is Google's web browser, which has become the default browser for most users, credit to a host of features on offer.
Firefox: Back in the day's Firefox was the choice of browser for internet users; however, recently, it has fallen down the pecking order.
Bookmarklets
As an internet user, you do understand what bookmarks are and their usage. Wordreference has gone a step further to improve the website's efficiency by creating a concept called bookmarklets.
Suppose you are reading something in Italian. Now you need to figure out the English translation of a particular word to understand it. Usually, you would select the word, and copy it to the search engine or Wordreference website. Using Bookmarklets, you can simply choose the word you are having trouble with, and click on the bookmark of the Wordreference page for the particular translation. This eliminates the need for copying and pasting the text to another website, thereby improving efficiency.
If you still have any problems, you can just ask in the forums, and get the best possible answer.
Word Of The Day
When learning any language, students are told to learn a new word every day. This helps them improve their vocabulary, which is the most critical aspect of any language after the dictionary. Wordreference has created this option on their website, called the 'Word Of The Day.'
A couple of new words are uploaded on the website every day, with their meanings available next to the word. Between these two words, one is Basic, and the other is Intermediate, keeping in mind the different users on the website. A basic word is rather common, while an intermediate word is much rarer, and using a proper amount of these words will create a lasting impression on the listener's mind.
You can rest assured that you will never have a dearth of seldom-used words in your vocabulary if you start reading these words today. This feature has been operational on the website for several years, and there are hundreds of new words that can enhance your vocabulary.
You can subscribe using your email address to get a mail of the new words every day. Of Course, this is free.
However, Wordreference can improve this option in regards to its positioning. Word Of the day shall be present on the home page or as the first option. This will drastically increase the number of users reading and understanding these words.
Safety?
Now you have a basic understanding of what Wordreference is all about. Given all its qualities and features, the safety of your system is of prime importance. Wordreference has taken extra care toward cybersecurity to provide you with a trouble-free visit to the website.
There are very few advertisements on the website. These are so subtle that you wouldn't even notice them at first glance. Their positioning is such that it does not affect the user's view or access to the website's features.
Also, there are no third-party websites attached to Wordreference, and this means the threat to your system from a different source is very less.
Verdict
Wordreference is a great tool to serve your translation, grammar, and overall language needs. With a host of features and a lot of creative options like word of the day, Wordreference has everything to become your default website for any language-related needs.
The features that Wordreference offers accompanied by a sincere looking UI that encourages you to grasp words easily, no doubt it is one of the best online dictionaries in the world.