🏆 Trophy Emoji
Trophy Emoji Meaning
The Emoji Trophy means competitiveness, triumph, and a feeling of winning or excelling (or both). You strive hard to be the best one for what you ❤️ love. Although this object can be the winner. It is also known as trophy emoji, award emoji, prize emoji, podium emoji, champion emoji, winner emoji, team emoji, and championship belt emoji. You can pair this emoji with any kind of sports like with ♟️chess pawn or 🏃 running if you won.
You can send this champion emoji to someone who is worthy to win a trophy cup emoji. Or a person who is hard working. Its like appreciation for some nice things they did. Send this emoji to them to show love even you cant afford the real trophy. Trophy emoji on WhatsApp looks golden or coper color and for Facebook it looks yellow.
Examples to use Trophy emoji
Is it wrong to desire a 🏆 wife
Our crew has worked hard to win that huge 🏆!
Note: As part of Unicode 6.0 trophy was approved in 2010 and accepted in 2015 to Emoji 1.0.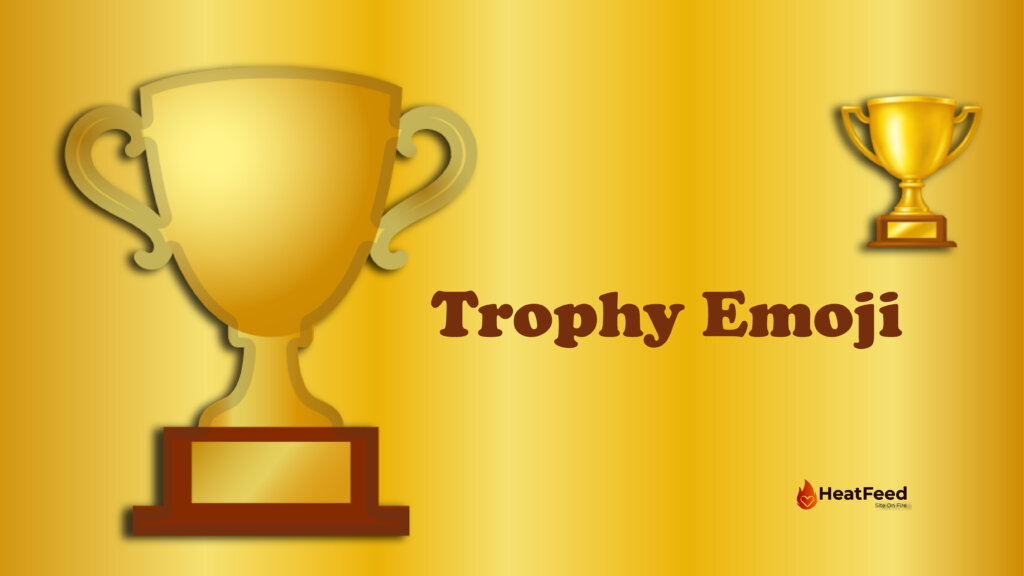 Similar Emoji
📅 Calendar, ⛳ Flag in Hole, 🐐 Goat, 🪢 Knot, 🎖️ Military Medal, 🏵️ Rosette, 🛌 Person in Bed, 🏅 Sports Medal, ⚓ Anchor, 🏃 Person Running, 🏊 Person Swimming, 🏋️ Person Lifting Weight, 🐟 Fish, 🐬 Dolphin, 🏄 Person Surfing, 👙 Bikini, 🌴Palm Tree, 🦈 Shark, 🌊 Water Wave
Also Known As
🏆 Prize
🏆 Winner
🏆 Victory
🏆 Cup
🏆 Medal
🏆 Award
🏆 Laurel
🏆 Championship Trophy
🏆 Winners Trophy
| | |
| --- | --- |
| Apple | |
| iOS 14.6 | |
| iOS 11.1 | |
| iOS 10.2 | |
| iOS 8.3 | |
| iOS 6.0 | |
| iOS 5.1 | |
| iOS 4.0 | |
| iPhone OS 2.2 | |
| | |
| --- | --- |
| Google | |
| Android 12L | |
| Android 12.0 | |
| Android 8.0 | |
| Android 7.0 | |
| Android 4.4 | |
| Android 4.3 | |
| | |
| --- | --- |
| Samsung | |
| One UI 4.0 | |
| One UI 1.0 | |
| Experience 9.0 | |
| TouchWiz 7.1 | |
| TouchWiz 7.0 | |
| TouchWiz Nature UX 2 | |
| | |
| --- | --- |
| Microsoft | |
| Windows 11 November 2021 Update | |
| Windows 10 Fall Creators Update | |
| Windows 10 Anniversary Update | |
| Windows 10 | |
| Windows 8.1 | |
| Windows 8.0 | |
| | |
| --- | --- |
| Twitter | |
| Twemoji 13.1 | |
| Twemoji 1.0 | |
| | |
| --- | --- |
| Messenger | |
| 1.0 | |
Codepoints
🏆 U+1F3C6
Shortcodes
:trophy: (Github, Slack)
emoji
emoji copy and paste
Trophy Emoji