Snow-Capped Mountain Emoji 🏔️
Snow-Capped Mountain Emoji
Snow-Capped Mountain Emoji Meaning
The Snow-Capped Mountain emoji 🏔️ shows a mountain with snow resting at higher altitudes. This emoji is mostly used in the meanings related to 🏕️ Camping, mountain climbing, and nature in general.
🏔️ meaning coldness and height of a snow-capped mountain, and it'll also be spread to the social networking site as a cold personality.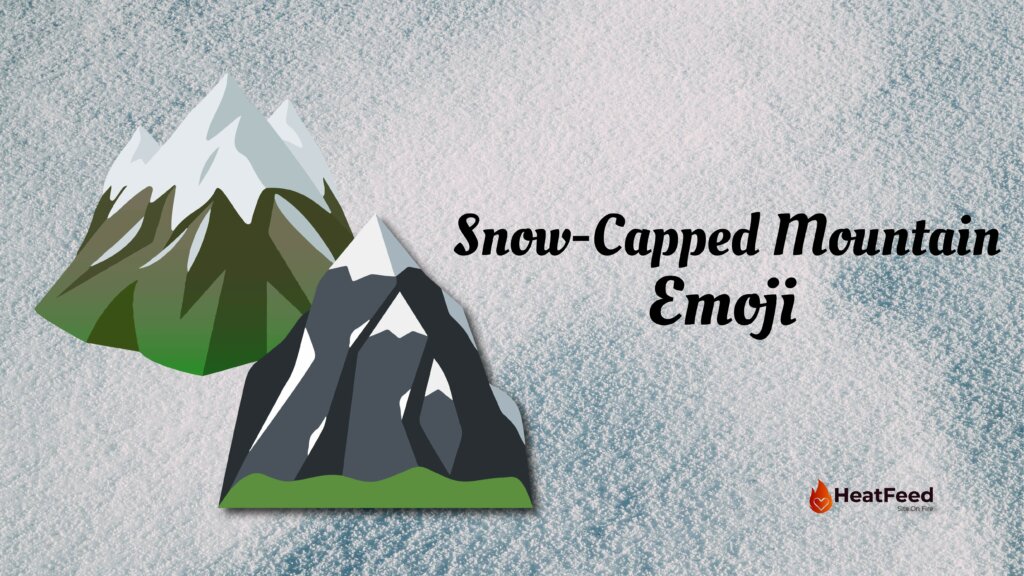 | | |
| --- | --- |
| Emoji: | 🏔️ |
| Name: | Snow-Capped Mountain | Ice Mountain Emoji | Snowy Mountain Emoji |
| Meaning: | Mountain Climbing, Camping, Nature |
| Unicode version: | None |
| Emoji and IOS version: | Emoji and IOS |
When was Snow-Capped Mountain added to emojis?
In 2014, the snow-capped mountain emoji was approved under Unicode 7.0 and added to the emoticon category. This mountain emoji meaning classical representation of Camping, hiking, and nature. 
How to Copy and Paste 🏔 meaning?
By using heatfeed.com, know 🏔️ emoji meaning or mountain emoji copy and paste within just a few seconds. You have to just perform a few steps and then you can easily paste your desired emoji on any online platform.
Find the emoji that you want to copy on heatfeed.com and click on it.
Click on the copy icon and your desired emoji will automatically copy on your device.
Paste it on any online platform like Facebook, Instagram, Twitter, etc.
Who uses 🏔️ Snow-Capped Mountain Emoji?
People use this snow-capped mountain emoji when they are visiting northern areas. And also they use this emoji while posting their pictures on the mountain. If a guy or girl sends this emoji, it means they are visiting northern areas. This emoji also represent hiking, nature, and cold weather.
Lavish combination to use 🏔️ Snow-Capped Mountain Emoji
Below are some unique and lavish combinations to place different emojis together and make your text more impressive and decorative. The unique ideas are below to use Snow-capped mountain emoticon:
We are going to the mountains for the first time 🏔️🤩🤩
Snow-capped mountains look fabulous🏔️🤍💖
Going on a vocation 🏔️🤳
Ready for hiking? 🥾🏔️🧭
Its cold outside 🏔️🥶☃️
Want to live my whole life on mountains 🏔️🤪
Are you ready for adventure? 🏔️🤪🤪🥶
🏔️ Snow-Capped Mountain Emoji look across various devices
Every gadget, iOS, and Web services create emojis according to their unique vision and concepts. So, the snow-capped mountain emoji looks different on different online platforms. We have drawn a table of snowy mountain emoji or ice mountain emoji on various platforms such as Google, Facebook, or Instagram etc, so that you can check out the appearance of this emoji.
Note: in 2014 under the name of the snow-capped mountain emoji was accepted as part of Unicode 7.0. In 2015 added to Emoji 1.0.
Similar Emojis
🌋 Volcano, 🌄 Sunrise Over Mountains, 🌅 Sunrise, ⛄ Snowman Without Snow, ☃️ Snowman, ❄️ Snowflake, 🏂 Snowboarder, 🪂 Parachute, ⛸️ Ice Skate, 🧊 Ice, 🥶 Cold Face, 🧗 Person Climbing, 🌨️ Cloud with Snow, 🐻‍❄️ Polar Bear, ☃️ Snowman, 🧤 Gloves, 🚠 Mountain Cableway, 🚞 Mountain Railway, 🏞️ National Park, 🪨 Rock, 🎿 Skis, ⛷️ Skier, 🏂 Snowboarder
Apple Name
🏔️ Snow Capped Mountain
Unicode Name
🏔️ Snow Capped Mountain
| | |
| --- | --- |
| Apple | |
| iOS 14.6 | |
| iOS 10.2 | |
| iOS 9.1 | |
| | |
| --- | --- |
| Google | |
| Android 12.0 | |
| Android 8.0 | |
| Android 7.0 | |
| Android 6.0.1 | |
| | |
| --- | --- |
| Samsung | |
| One UI 3.1.1 | |
| One UI 1.0 | |
| Experience 9.0 | |
| TouchWiz 7.1 | |
| TouchWiz 7.0 | |
| TouchWiz 6.0 | |
| | |
| --- | --- |
| Microsoft | |
| Windows 10 May 2019 Update | |
| Windows 10 Anniversary Update | |
| Windows 10 | |
| | |
| --- | --- |
| WhatsApp | |
| 2.21.16.20 | |
| 2.17 | |
| | |
| --- | --- |
| Twitter | |
| Twemoji 13.1 | |
| Twemoji 2.4 | |
| Twemoji 2.0 | |

Codepoints
Shortcodes
:snow-capped_mountain: (Slack)
:mountain_snow: (Github)
emoji
emoji copy and paste
Snow capped mountain emoji