😏 Smirking Face Emoji
Smirking Face Emoji Meaning:
Emojis were created as an approach to symbolically represent feelings. The smirking face emoji is a yellow-faced smiley with sly eyes, spread-out brows, and a smirk represented by a half-curved upward line. This emoji conveys a general sense of mischief as well as a subtly proud expression.
This emoji often conveys a hint of arrogance and possibly even condescension, the more digestible emotions conveyed by this emoji fall under the flirtatious signal. This emoji may even have a sexual connotation depending on the context of the conversation.
NOTE: In 2010, Smirking Face was approved as part of Unicode 6.0, and in 2015, it was added to Emoji 1.0. On Snapchat, this symbol next to contact means that this person snaps at you regularly but you don't snap back.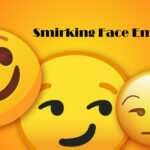 | | |
| --- | --- |
| Emoji: | 😏 |
| Name: | Smirking Face |
| Meaning: | Coolness, guilty pleasures, malicious joy |
| Unicode version: | None |
| Emoji and IOS version: | Emoji and IOS |
When was Smirking Face added to the emojis category?
In 2010, this Smirking Face emoji was approved under Unicode 6.0 and then added to the smiley and emoticon category in 2015. On Snapchat, this emoji next to contact means that this person regularly snaps at you but you do not snap back. This emoji is used to convey insolence, smugness, or scorn.
How Can I Copy-Paste Smirking Face Emoji?
People frequently asked questions about how can they copy-paste their favorite emoticons on online platforms. It became very easy to Smirking Face Emoji copy and paste by using heatfeed.com. The below points will direct you to copy-paste your favorite emoticon by using heatfeed.com.
Visit our website and search for the emoji you want to copy.
Click on it and then click on the smirk emoji copy and paste icon. It will instantly copy on your device.
Now you can paste this emoji on any online platform like Facebook, Instagram, Whatsapp, Twitter, etc.
Who uses 😏 Smirking Face Emoji?
People use this emoji to express being flirty or metaphorical since it does look like it is blinking. Nevertheless, people also use this smirking face emoji to represent being Arrogant or Sly. users share this emoji to indicate those topics, like finishing something on time or doing something that people criticize you for.
Lavish combination to use 😏 Smirking Face Emoji
Lavish combinations are basically the ideas to put different emoticons together to make a fascinating and unique message. It will surely express your feelings in a unique way. Below are the ideas that will guide you to use the smirking face emoji:
Well, I knew that 😏😏😒
Oh, really baby 😐😏
How's it going without me? 😏☹️☹️
I don't think I believe that fake story 😏🤐🤐
​😏​😤​😄​😭​ Mood right now!
I had a good night. You know what I mean.😏😄😄
You should wait for me 😤​😏​😤
Why should I trust you❓😏
Similar Emojis:
There are some other emojis that are similar to 😏 Smirking Face emoji 😉 Winking Face, 🌝 Full Moon Face, 😼 Cat with Wry Smile, 😒 Unamused Face, 🌚 New Moon Face. Among many others, every emoji passes on a one-of-a-kind message.
Also Known As
😏 Flirting
😏 Sexual Face
😏 Smug Face
😏 Suggestive
😏 Mischief
😏 Flirting
😏 Naughty
Apple Name
😏 Smirking Face
😏 Smirking Face Emoji look across various devices
Every emoticon looks differently on different online platforms. It is because every gadget, web service, or OS manufacturer designs emoticons with a unique idea and concept. We have drawn a table below where you can easily check out the different emoticon's look on different platforms like Facebook, Whatsapp, Google, etc.
Apple

Apple

iOS 14.6

iOS 10.2

iOS 10.0

iOS 8.3

iOS 6.0

iOS 5.1

iOS 4.0
iPhone OS 2.2
Google

Google

Android 12.0

Android 11.0

Android 10.0

Android 8.0

Android 7.0

Android 5.0

Android 4.4

Android 4.3
Gmail
Samsung

Samsung

One UI 2.5

Experience 9.1

Experience 9.0

TouchWiz 7.1

TouchWiz 7.0

TouchWiz Nature UX 2
Microsoft

Microsoft

Windows 10 May 2019 Update

Windows 10 Anniversary Update

Windows 10

Windows 8.1

Windows 8.0
WhatsApp

WhatsApp

2.21.11.17

2.19.7

2.17
Twitter

Twitter

Twemoji 13.1

Twemoji 1.0
Facebook

Facebook

4.0

3.0

2.0

1.0
Skype

Skype

Emoticons 1.2

Emoticons 1.0
Messenger

Messenger

1.0
Mozilla

Mozilla

Firefox OS 2.5
Codepoints
😏 U+1F60F
Shortcodes
:smirk: (Github, Slack)
emoji copy and paste
emoji meaning
Smiley Emoji
Smirking face emoji