🪡 Sewing Needle Emoji
Sewing Needle Emoji Meaning:
A sewing Needle emoji is a grey slanting needle with an eye facing upwards and a blue thread going over it. This thread needle emoji is sometimes displayed in a tapering design. Thread color varies between platforms.
The Sewing Needle emoji means the letter and metaphor of 'stitching.' It means that two or more things or someone should be joined, attached, or connected. This object can be used in crafts, such as sticking, stepping, or general stitching.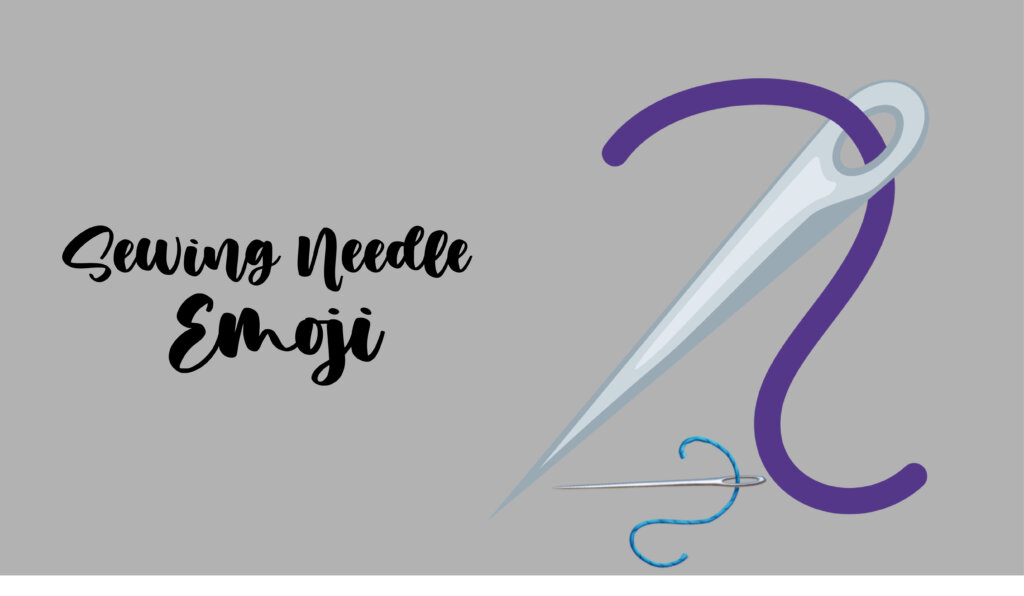 | | |
| --- | --- |
| Emoji: | 🪡 |
| Name: | Sewing Needle Emoji |
| Meaning: | Embroidery, Needle, Sewing, Stitches, Sutures, Tailoring |
| Unicode Version: | Unicode 13.0 |
| Emoji and iOS Version: | Emoji 13.0 and iOS 15.4 |
When was Sewing Needle added to emojis?
In 2020, the emoji sewing needle was approved under Unicode 13.0 and also added to the emoticon category. This emoji is the classic representation of tailoring, embroidery, or stitching.
How to Copy and Paste Sewing Needle Emoji?
It is very easy to 10000 emojis copy and pastes by using our website heatfeed. You have to just perform the given steps to sewing emoji copy and paste on your system.
The first step is to go to heatfeed.com. Then find the needle thread emoji and click on it
Click on the Sewing needle emoji copy and paste icon and it will immediately copy onto your device
Now you are able to paste it wherever you like.
Who uses 🪡 Sewing Needle Emoji?
People use the Needle and thread emoji when they are talking about the stitching and embroidery of the clothes. But a few people also use it when they are suggesting others sew up their relationship. People also use this sew emoji in the metaphorical sense like when they talk about narrow or small openings.
Lavish combination to use 🪡 Sewing Emojis:
There are a few lavish combinations given below to use the Sewing emoji.
Come on man! He is your dad leave the pride and stitch the pieces 🪡 👨‍👦
I like the stitching and design of this dress 🪡 👗
I think you guys should solve the problems and stitch the pieces 🪡 💑🏼
If it was not her then stitch in time, otherwise we will be in trouble 🪡 😟
Similar Emojis:
There are some other emojis that are similar to 🪡 Sew emoji are, 🧵 Thread emoji, 🥻 Sari emoji, 👰 Person with Veil emoji, 🧶 Yarn emoji, 👗 Dress emoji, 👘 Kimono emoji, and 🪢 Knot emoji. Each emoji transmits a specific message among others.
Also Known As
🪡 Needle and Thread
🪡 Sewing Emoji
🪡 Stitching Emoji
🪡 Stitch in Time
🪡 Tailoring Emoji
🪡 Fashion Design
🪡 Sew Emoji
🪡 Sew Up
🪡 Stitching Up
Apple Name
🪡 Sewing Needle
🪡 Sewing Needle Emoji look across various devices
The sewing Needle emoji is displayed uniquely on different online platforms. Every web service, gadget, or OS manufacturer creates emoji with their own unique ideas and visions. We have drawn a table below so that you can easily check out the different Sewing needle emojis on platforms like Facebook, Instagram, Whatsapp, Google, Microsoft, etc.
Codepoints
🪡 U+1FAA1
Shortcodes
:sewing_needle:
emoji
emoji copy and paste
emoji meaning
Sewing Needle Emoji