😌 Relieved Face Emoji
Relieved Face Emoji Meaning: 
Emojis were used as a means of symbolically representing emotions. The relieved emoji face is a yellow face smiley with warm, closed relaxed eyes, droopy brows, as well as a small curve that represents a relaxed smile. This emoji conveys feelings of contentment, relief, peace, and calm. The emoji represents a general feeling of relief after completing a task or receiving long-awaited gratification.
If you are feeling a certain kind of gratitude for someone and you need to tell them that they are the cause of your happiness then send this emoji. This would tell them that you are thankful for all the development they have done for you.
NOTE: Relieved Face was supported as a component of Unicode 6.0 in 2010 and added to Emoji 1.0 in 2015.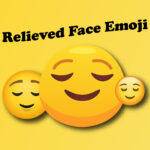 How to copy-paste the relieved face emoji?
Relieved face emoji are being used to show a sense of relief. When you find happiness after all you send such emojis to your friends. If you need to copy the emoji from any website then go to heatfeed.com. This prestigious emoji site will frankly let you copy-paste the relieved face emoji. Following are the rules and primary steps to follow while 10000 emojis copy and paste from the website.
1. Search the website called www.heatfeed.com
2. Search the emoji from the website using the search bar.
3. Click the copy button and just copy it.
4. Paste it somewhere you want to.
Similar Emojis:
There are some other emojis that are similar to the 😌 Relieved Face emoji are 😥 Sad but Relieved Face, 😪 Sleepy Face, 🥵 Hot Face, 😔 Pensive Face, 😢 Crying Face, and 😓 Downcast Face with Sweat, 😰 Anxious Face with Sweat, and a 🥲 Smiling Face with Tear. Among many others, each emoji communicates a distinct message.
Also Known As
😌 Content
😌 Pleased
😌 Relax
😌 Calm Face
😌 Surrender
😌 Give Up Face
😌 Blessed Face
😌 Peaceful
😌 Bliss
😌 Gratitude
Apple Name
😌 Relieved Face
Apple

Apple

iOS 14.6

iOS 10.2

iOS 10.0

iOS 8.3

iOS 6.0

iOS 5.1

iOS 4.0
iPhone OS 2.2
Google

Google

Android 12.0

Android 11.0

Android 10.0

Android 8.0

Android 7.0

Android 6.0.1

Android 5.0

Android 4.4

Android 4.3
Gmail
Samsung

Samsung

One UI 3.1.1

Experience 9.0

TouchWiz 7.1

TouchWiz 7.0

TouchWiz Nature UX 2
Microsoft

Microsoft

Windows 10 May 2019 Update

Windows 10 Anniversary Update

Windows 10

Windows 8.1

Windows 8.0
WhatsApp

WhatsApp

2.21.11.17

2.19.7

2.17
Twitter

Twitter

Twemoji 13.1

Twemoji 1.0
Facebook

Facebook

13.1

3.0

2.0

1.0
Messenger

Messenger

1.0
Codepoints
😌 U+1F60C
Shortcodes
:relieved: (Github, Slack)
emoji copy and paste
emoji meaning
Relieved Face Emoji
Smiley Emoji