🙌Raising Hands Emoji
Raising Hands Emoji meaning
🙌 Raising Hands emoji is two identical hand raised up. This gesture expresses celebration, success, joy, freedom. This sign has a separate meaning which is in popular use. This hand gesture is also known as hand emoji, praise hand emoji, raising both hands emoji, hands up emoji, raise hands emoji, two hands people emoji.
People use this 🙌 raised hands emoticon with 🧨 firecracker emoji and 🍾 Bottle with popping cork to express the celebration of a winning match. This emoji is related to a sports win, victorious personal moments, or a moment of pride.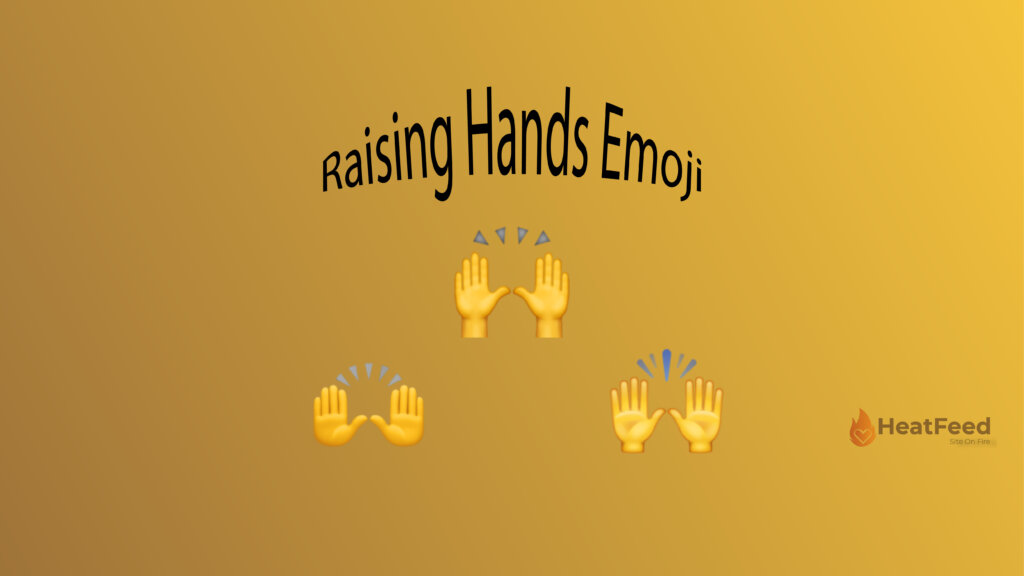 | | |
| --- | --- |
| Emoji | 🙌 |
| Name | Raising Hands |
| Meaning | celebration, success, joy, freedom |
| Unicode version | None |
| Emoji | Emoji 1.0 |
When were Raising Hands added to emojis?
In 2010, the Raising hands emoji was approved under Unicode 6.0. And in 2015, added to the emoji category under the name "Person Raising Both Hands in Celebration." This emoji is the classical representation of Freedom, joy, or celebration hands emoji. The Appearance of hands up emoji is different on Facebook as compare to google or other platforms.
How to Copy and Paste 🙌 Emoji?
Many people want to know how can they copy and paste their favorite emoji on various online platforms. Raise Hand emoji copy and paste by using our website heatfeed.com. Below are the points that you have to follow:
Go to our website heatfeed.com. Find the emoji that you want to copy and click on it.
Click on the copy icon and it will automatically copy on your device.
Now you can easily paste it wherever you want.
Who uses 🙌 Raising Hands Emoji?
Most people use the two hands emoji meaning is used to express their happiness in someone's successor also they use it to celebrate the victory. If a girl or boy uses this emoji during the conversation, it means they are cheering up you. Basically, it is the emoji of celebration.
Lavish combination to use 🙌 Raised hands Emoji
Lavish combinations to place various emoji together so that your text becomes more impressive and unique. Below are the unique ideas to use raising hand emoji with other hands emoji:
I'm happy to be done with work 🙌😄😄
​🧑🔊​🙌​💿​​🎶​ DJ
​⚽​🙌​ the goalkeeper
I'm so excited to be at this game 🙌⚽🙌
​🙌​🙏​🗺​ The United Country
​😍​🙌​😄 Just Imagine
Hurray, we won the match! 🙌🍾
I totally agree with you. 🙌👏👏👏
What a night and what an inning 👏🙌
🙌Emoji look across various devices
The appearance of raising hand emoji is varying with the platforms. Every OS, gadget, or web services manufacturer designs emoji with their ideas and visions. Below is the table that we have drawn so you can easily check out the difference between raising hands emojis' appearance on various platforms like Instagram, Twitter, Facebook, etc.
Note: Raising Hands was formed as part of Unicode 6.0 in 2010 under the name "Person Raising Both Hands in Celebration" and labeled Emoji 1.0 in 2015.
Similar emoji:
Call me Hand 🤙Backhand Index Pointing left👈Backhand Index pointing Right 👉Backhand Index pointing Up👆Middle Finger🖕
Also Known As
🙌Arms in Air
🙌Banzai
🙌Festivus Miracle
🙌Hallelujah
🙌Praise Hands
🙌Two Hands
Apple Name
🙌Hands Raising Both Hands in Celebration
Unicode Name
🙌Person Raising Both Hands in Celebration
| | |
| --- | --- |
| For Apple Devices | |
| For iPhone iOS 14.6 | |
| For iPhone iOS 10.2 | |
| For iPhone iOS 10.0 | |
| For iPhone iOS 8.3 | |
| For iPhone iOS 6.0 | |
| For iPhone iOS 5.1 | |
| For iPhone iOS 4.0 | |
| For iPhone OS 2.2 | |
| | |
| --- | --- |
| For Google | |
| For Android 12.0 | |
| For Android 10.0 | |
| For Android 11.0 | |
| For Android 8.0 | |
| For Android 7.0 | |
| For Android 6.0.1 | |
| For Android 5.0 | |
| For Android 4.4 | |
| For Android 4.3 | |
| | |
| --- | --- |
| For Samsung | |
| One UL 2.5 | |
| Experience 9.0 | |
| Touch Wiz 7.1 | |
| Touch Wiz 7.0 | |
| Touch Wiz Nature Ux 2 | |
| | |
| --- | --- |
| For Microsoft | |
| Windows 10 May 2019 Update | |
| Windows 10 Anniversary Update | |
| Windows 10 | |
| Windows 8.0 | |
| | |
| --- | --- |
| For What's app | |
| 2.21.11.17 | |
| 2.17 | |
| | |
| --- | --- |
| For Twitter | |
| Twemoji 13.1 | |
| Twemoji 2.5 | |
| Twemoji 1.0 | |
| | |
| --- | --- |
| For Facebook | |
| 4.0 | |
| 3.0 | |
| 2.0 | |
| 1.0 | |
| | |
| --- | --- |
| For Messenger | |
| 1.0 | |
Codepoints
🙌U+1F64C
Shortcodes
:raised_hands: (Github, Slack)
emoji
emoji copy and paste
raised hand
raising hands
up hand