😔 Pensive Face Emoji
Pensive Emoji Meaning: 
Emojis were designed as a means of symbolically representing emotions. Pensive Face emoji is a yellow face smiley with sad, drooping eyes, frowned brows, and a mouth with a straight, expressionless line. This emoji conveys feelings of concern, sadness, and vulnerability. The emoji also conveys a sense of deep and overpowering thoughts, to the point where they are now intrusive. It also indicates a feeling of loneliness, anxiety, hurt, avoidance, and possibly rejection.
NOTE: Pensive Face was supported as a feature of Unicode 6.0 in 2010 and added to Emoji 1.0 in 2015.
| | |
| --- | --- |
| Emoji: | 😔 |
| Name: | Pensive Face |
| Meaning: | Apologetic, sad, disappointment |
| Unicode version: | None |
| Emoji and IOS version: | Emoji and IOS |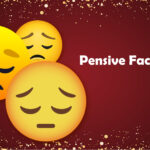 When was Pensive Face added to the emojis category?
In 2010, the Pensive Face emoji was endorsed as a feature of Unicode 6.0 and added to the emoticon category in 2015. This emoji is the classic representation of sadness and vulnerability.
How Can I Copy-Paste Pensive Face Emoji?
Copy-paste pensive face emoji became very easy with the use of heatfeed.com. You can easily 10000 emojis copy paste your favorite emoji within a second. Below are the few steps that will direct you to do pensive face emoji copy and paste:
Visit heatfeed.com. Find the emoticon that you want to copy and click on it.
Now click on the copy icon and it will automatically copy on your device.
Paste this emoji on any online platform like Facebook, Instagram, Twitter, etc.
Who uses 😔 Pensive Face Emoji?
People send this emoji when they get hurt and feel disappointed by something. Users also use this emoji when they want forgiveness from their loved ones. People also use this emoji when they want to show support for a person whose relative died. People send this emoji to their friends when talking about a hard time.
Lavish combination to use 😔 Pensive Face Emoji
Combinations is actually a set of various emoji that makes proper sense as well as make your text more unique and impressive. Below are a few ideas to use pensive face emoji with other emoticons:
​💔​🤥​😔​ don't hurt me anymore 
Stop crying buddy ​✋​😔​
​🚫​🏠​😔​ he is homeless 
​😔​📶​🔧​💻​sorry! I had a bad internet connection
It's a pity you can't go there with me 😔😢🥺
Sorry, please forgive me for my mistake 🥺 😔😔
I knew I would fail again 😔😭😭
I am so unlucky today 😔😩🥺😩
I didn't expect this from you 😔😓😞
Leave me alone 😞😔
Similar Emojis:
There are some other emojis that are similar to 😔 Pensive Face is 😌 Relieved Face and 😞 Disappointed Face. Among many others, each emoji communicates a specific message.
Also Known As
😔 Pensive
😔 Sad
😔 Sadface
😔 Sorrowful
😔 Worry
😔 Hurting
😔 Anxious Face
Apple Name
😔 Sad Pensive Face
😔 Pensive Face Emoji look across various devices
Every emoticon looks differently on various platforms. It is because every gadget, OS, and web services manufacturer designs them according to their sources and with their own unique ideas. We have drawn a table of Pensiv Face emojis, so you can easily check the difference in the appearance of this emoji.
Apple

Apple

iOS 14.6

iOS 10.2

iOS 10.0

iOS 8.3

iOS 6.0

iOS 5.1

iOS 4.0
iPhone OS 2.2
Google

Google

Android 12.0

Android 11.0

Android 8.0

Android 7.0

Android 5.0

Android 4.4

Android 4.3
Samsung

Samsung

One UI 3.1.1

Experience 9.1

Experience 9.0

TouchWiz 7.1

TouchWiz 7.0

TouchWiz Nature UX 2
Microsoft

Microsoft

Windows 10 May 2019 Update

Windows 10 Anniversary Update

Windows 10

Windows 8.1

Windows 8.0
WhatsApp

WhatsApp

2.21.11.17

2.19.7

2.17
Twitter

Twitter

Twemoji 13.1

Twemoji 1.0
Facebook

Facebook

13.1

3.0

2.0

1.0
Messenger

Messenger

1.0
Codepoints
😔 U+1F614
Shortcodes
:pensive: (Github, Slack)
emoji copy and paste
emoji meaning
pensive face emoji
Smiley Emoji