😐 Neutral Face Emoji
Neutral Face Emoji Meaning:
Emojis were created as a way to symbolically represent feelings. The neutral Face emoji is a yellow face smiley with broad, white eyes and a single straight mouth line. This emoji does not necessarily indicate disinterest, but rather that someone is unimpressed, indifferent, or awkward. Depending on the circumstances Straight Face Emoji can mean "Whatever…" or "I'm at a loss for words!" 
This emoji is related to the expressionless face emoji. But not totally equivalent to it for various reasons. This emoji stands for the state of indifference when you show others that anything that would happen would never impact your performance because you are unaffected by it then this emoji would stand out for you.
NOTE: This emoji was approved as a section of Unicode 6.0 in 2010 and added to Emoji 1.0 in 2015.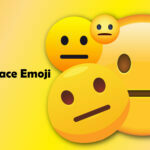 How to copy-paste neutral face emoji?
The neutral face emoji tells us about a person who is impartial, and indifferent to anything around him. To use the neutral face 10000 emojis copy and paste option by your system, follow the following steps,
1. Go to the website www.heatfeed.com
2. After that, search for your emoji on the website using the navigation tool.
3. when it is being searched go to the button for copying the emoji.
4. After that, paste it anywhere you like. You can use it on your Instagram handlers and other sites.
Similar Emojis:
There are some other emojis that are similar to 😐 Neutral Face emoji 😑 Expressionless Face and 🫥 Dotted Line Face emoji. Each emoji conveys a unique message, among many others.
Also Known As
😐 Face With Straight Mouth
😐 Straight Faced
😐 Speechless
😐 Confused Face
Apple Name
😐 Neutral Face
Apple

Apple

iOS 14.6

iOS 10.2

iOS 10.0

iOS 9.1

iOS 8.3

iOS 6.0

iOS 5.1
Google

Google

Android 12.0

Android 11.0

Android 8.0

Android 7.0

Android 5.0

Android 4.4
Samsung

Samsung

One UI 2.5

Experience 9.1

Experience 9.0

TouchWiz 7.1

TouchWiz 7.0

TouchWiz Nature UX 2
Microsoft

Microsoft
Windows 10 May 2019 Update

Windows 10 Anniversary Update

Windows 10

Windows 8.1

Windows 8.0
WhatsApp

WhatsApp

2.21.11.17

2.19.7

2.17
Twitter

Twitter

Twemoji 13.1

Twemoji 1.0
Facebook

Facebook

4.0

3.0

2.0
Skype

Skype

Emoticons 1.0
Messenger

Messenger

1.0
Codepoints
😐 U+1F610
Shortcodes
:neutral_face: (Github, Slack)
emoji copy and paste
emoji meaning
Emoji Smiley
Neutral face emoji