🎤 Microphone Emoji
Microphone Emoji Meaning
Microphone Emoji meaning is the one you tremble to hold center stage. The object one you can personalize with anything that makes you feel pop! Emoji microphone amplifies the voice of a person who uses it and it is used in any sense relating to signing and speaking. You can also use this emoji when talking about the night out in the karaoke club with friends.
People use this emoji with the 🎶 Musical Note emoji. Mic emoji can mean "I can sign as well as him" and "Tonight is a live concert of AP Dhillon." The mic emoji is a unique emoji that can be used on tablets, computers, and mobile devices. Enjoy the microphone emoji copy and paste feature of heatfeed.com. This emoji supports all platforms such as Instagram or Google.
How to copy and paste Microphone emoji?
To copy and paste mic emoji follow the following steps:
Press Ctrl+C after selecting emoji. Emoji will be automatically copied to clipboard.
Now right click on the desired place and click on the paste option.
For pasting use keyboard Shortcodes by pressing Ctrl +P.
Note: This mic was introduced to Emoji 1.0 in 2015 and approved as part of Unicode 6.0 in 2010.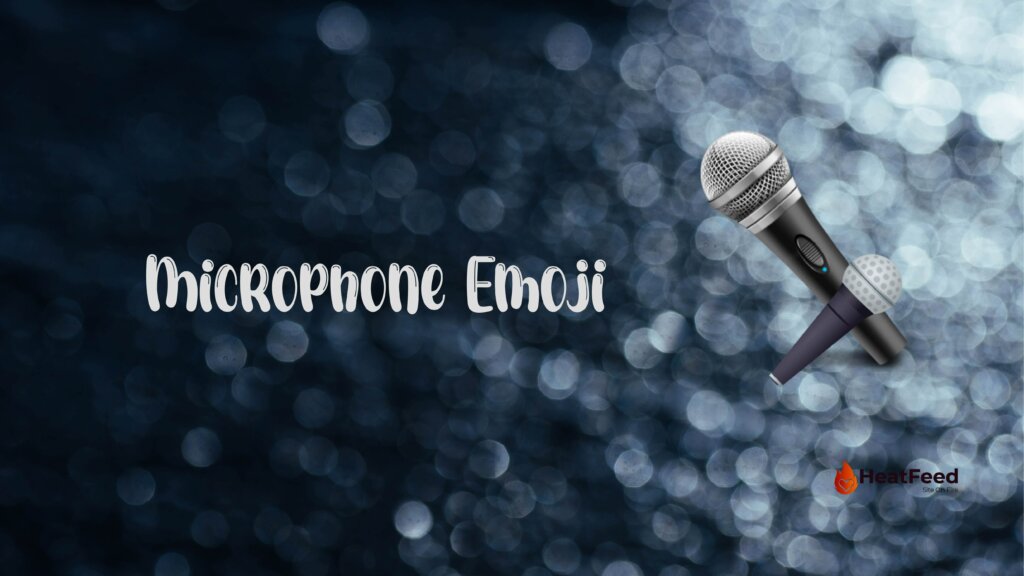 Similar Emoji
The similar emojis of microphone emojis are 🎪 Circus Tent, 🍻 Clinking Beer Mugs, 🎛️ Control Knobs, 💃 Woman Dancing, 👨‍🎤 Man Singer, 🎵 Musical Note, 〽️ Part Alternation Mark, 🧑‍🎤 Singer, 🎙️ Studio Microphone, 🎫 Ticket, 🎺 Trumpet, 👩‍🎤 Woman Singer, 🎹 Musical keyboard, 📻 Radio, 🪘 Long Drum, 🎚️ Level Slider, 😗 Kissing Face, 😙 Kissing face with smiling eyes, 🥳 Partying face, 🧑‍🎤 Singer, 🎙️ Studio Microphone
Mic emoji Also Known As
🎤 Mic
🎤 Singing Microphone
🎤 Vocalist's Mic
🎤 Karaoke
🎤 Singing
🎤 Voice Amplifier
🎤 Microphone
Codepoints
🎤 U+1F3A4
Shortcodes
:microphone: (Github, Slack)
emoji
emoji copy and paste
Microphone Emoji