🪄 Magic Wand Emoji
Magic Wand Emoji Meaning:
Magic Wand emoji represents the action of magic. On social media platforms, we use magic emoji or magic stick emoji which have a white tip surrounded by stars. This object gives us the feeling of magic coming true just with the help of a magic stick.
In movies and cartoons, magicians use this magic stick to perform different magics. The 🪄 emoji is also known as wizard wands. People use this wand emoji when they are talking about the magic show or cartoons, with other emojis like 🎩 top hat, ✨sparkle, 🌟 glowing star, or 🐇 rabbit.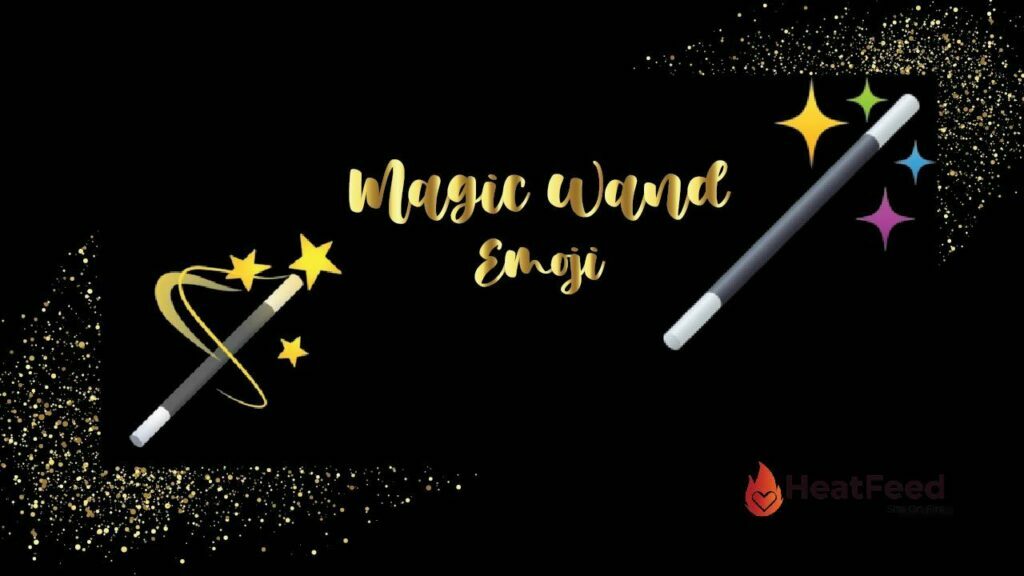 | | |
| --- | --- |
| Emoji: | 🪄 |
| Name: | Magic Wand Emoji | Magic Stick |
| Meaning: | The action of magic |
| Unicode Version: | Unicode 13.0 |
| Emoji and iOS Version: | Emoji 13.0 and iOS 14.6 |
When was Magic Wand added to emojis?
In 2020, the emoji Magical stick was approved under Unicode 13.0 and also added to the emoticons category. This is the classical representation of doing magic. The Emoji magic wand symbol is available on all online platforms.
How to Copy and Paste Magic Wand Emoji?
Magic wand emoji copy and paste are now a matter of just a few clicks. You can easily magic stick emoji copy and paste on your device. 10000 emojis copy and paste are now very easy by using our site heatfeed.com. Follow the given steps to complete this task:
Go to our website Heatfeed.com. Find the magic emoji copy and paste and click on it.
Click on the emoji copy icon, it will immediately copy on your device.
Now paste it on any online platform according to your desire.
Who uses 🪄 Magical Stick Emoji?
People use the star wand to show their love for fairy tales and magic. This magical stick emoji is mostly used by the young generation, especially girls. They use magic emojis when they are talking about magic, cartoons, fairy tales, desires, etc.
Lavish combination to use 🪄 Magic Emoji
There are some lavish combinations to using the Magic stick emoji. Below are the ideas to use this emoji wand with other emojis:
Wait a minute my dear daughter, I am going to do magic for my princess. 🪄 👨‍👧
This magic show is one of my favorites 🪄 🤩🎩
Hey princess where is your magical stick? 🤩 🪄 🧚‍♀️
Similar Emojis:
A list of related Emojis are star wand emoji, 🎩 Top Hat, 🤵 Person in Tuxedo, 🔮 Crystal Ball, ✨ Sparkles, 🎱 Pool 8 Ball, 🃏 Joker, ★ Black Star, 👯 People with Bunny Ears, 🤡 Clown Face, 🌟 Glowing Star, 🐇 Rabbit, 🐰 Rabbit Face, ⭐ Star, 🧙 Mage.
Apple Name
🪄 Magic Wand
🪄 Magic Wand Emoji look across various devices
The Majic wand emoji is displayed differently on different websites. Every manufacturer designs emojis according to their specific vision and ideas. You can see the difference in the magic wand emoji on different platforms in the given tables.
Apple



Apple

iOS 15.4

iOS 14.2
Google


Google

Android 12L

Android 11.0
Samsung


Samsung

One UI 4.0 January 2022

One UI 2.5
Microsoft



Microsoft

Windows 11 November 2021 Update

Windows 11
WhatsApp



WhatsApp

2.22.8.79

2.20.206.24
Twitter



Twitter

Twemoji 14.0

Twemoji 13.0
Codepoints
🪄 U+1FA84
Shortcodes
: magic_wand : (Github, Slack)
emoji copy and paste
emoji meaning
Magic Wand Emoji
objects