😭 Loudly Crying Face Emoji
Loudly Crying Face Emoji Meaning: 
Emojis were designed to represent feelings symbolically. Loudly Crying Face emoji is a yellow face smiley with a crying open mouth and heavy tears streaming from closed eyes. It is used to imply discomfort, intense melancholy, sorrow, or emotional distress. It is also used as excessive laughter.
NOTE: Loudly Crying Face was approved as part of Unicode 6.0 in 2010 and added to Emoji 1.0 in 2015. This is the most popular Twitter emoji since March 2021.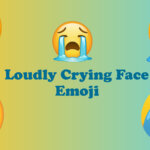 How to copy-paste a loudly crying face emoji?
The loudly crying face emoji copy and paste/sob emoji copy and paste items are available at different sites. All emojis that have a singular step to use are given in heatfeed. If you get more than 10000 emojis copy and paste, our site is the best platform specially designed for emojis.
1. Go to the site of heatfeed.com to duplicate the loudly crying face emoji. A link is being delivered to heatfeed.com.
2. Now, you should go to the site. If you hit on the button, the emoji will be copied in nanoseconds.
3. If you need to glue the emoji on some spot, paste it in the place you want to.
Similar Emojis:
There are some other emojis that are similar to 😭 Loudly Crying Face, 😔 Pensive Face, 😢 Crying Face. Among many others, each emoji transmits a distinct message.
Also Known As
😭 Crying Emoji
😭 Tears Emoji
😭 Sobbing Em
😭 Bawling Emoji
😭 Cry Emoji
Apple Name
😭 Loudly Crying Face
Apple

Apple

iOS 14.6

iOS 10.2

iOS 10.0

iOS 8.3

iOS 6.0

iOS 5.1

iOS 4.0
iPhone OS 2.2
Google

Google

Android 12.0

Android 11.0

Android 8.0

Android 7.0

Android 5.0

Android 4.4

Android 4.3
Gmail
Samsung

Samsung

One UI 3.1.1

Experience 9.0

TouchWiz 7.1

TouchWiz 7.0

TouchWiz Nature UX 2
Microsoft

Microsoft

Windows 10 May 2019 Update

Windows 10 April 2018 Update

Windows 10 Fall Creators Update

Windows 10 Anniversary Update

Windows 10

Windows 8.1

Windows 8.0
WhatsApp

WhatsApp

2.21.11.17

2.19.7

2.17
Twitter

Twitter

Twemoji 13.1

Twemoji 1.0
Facebook

Facebook

13.1

4.0

3.0

2.0

1.0
Messenger

Messenger

1.0
Codepoints
😭 U+1F6D2
Shortcodes
:sob: (Github, Slack)
emoji copy and paste
emoji meaning
Emoji Smiley
Loudly Crying face emoji