🥵 Hot Face Emoji
Hot Face Emoji Meaning:
Emojis were invented as a way to symbolically address emotions. Emoji Hot Face is a reddish-orange face with furrowed brows, tongue protruding, and beads of sweat, as though overheated by the heat/temperature. This smiley may be different on some platforms, as its number of sweat drops increased at most platforms. The Hot emoji represents a feeling of being suffocated by fever, sweating from the blazing heat, or in other words finding someone or something physically beautiful, or hot.
NOTE: In 2018, Emoji 11.0 added this hot emoji under the name "Overheated Face" and Unicode 11.0 included this feature in 2018.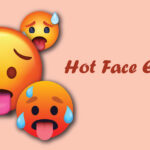 How to copy-paste the hot face emoji?
The hot face emoji copy and paste are being used by netizens. You can use the hot emoji copy and paste options from any emoji site. Heatfeed is the site where you can have 10,000 emojis copy and paste options. Follow these steps to know how to copy-paste,
Go to the site called www.heatfeed.com
Search your emoji in the search bar on the webpage.
Copy it by clicking on the option of 'copy the emoji' under the emoji
Paste it permanently on your social media platforms.
Similar Emojis:
The emoji 🥵 Hot Face is related to the emoji 🥶 Cold Face. Every emoji among numerous others conveys an exceptional message.
Also Known As
🥵 Hot Face
🥵 Heating Up
🥵 Infatuated
🥵 Feverish
🥵 Ill Emoji
🥵 Burning Up
🥵 Chilly
🥵 Spicy Emoji
🥵 Tongue Out Emoji
🥵 Spicy Food Face
🥵 Sweaty Face
🥵 Burning Face
Apple Name
🥵 Overheated Face
Apple

Apple

iOS 14.6

iOS 12.1
Google

Google

Android 12.0

Android 11.0

Android 9.0
Samsung

Samsung

One UI 3.1.1

Experience 9.5
Microsoft

Microsoft

Windows 10 May 2019 Update

Windows 10 October 2018 Update
WhatsApp

WhatsApp

2.21.11.17

2.18.379
Twitter

Twitter

Twemoji 13.1

Twemoji 11.0
Codepoints
🥵 U+1F975
Shortcodes
:hot_face: (Github, Slack)
emoji copy and paste
emoji meaning
hot face emoji
Smiley Emoji