🤝HandShake Emoji
Emoji Meaning
HandShake Emoji🤝 shows a hand to a handshake that indicates greeting between loved ones this sign shows the gesture of love and affection which also expresses thankfulness. These people emoji are also known as Partner emoji, Handshaking emoji, Shake hand emoji, helping emoji, Two hands shaking, Shake emoji, Handshake copy and paste.
This 🤝 handshake emoji is the sign of agreement, a plan, or a deal agreed by both sides, and also it is also used to show forgiveness at the end of a serious hated debate. Handshake emoji can mean "Let's shake on that" or "I'm on your side." This emoji is also used to promote unity, peace, and peace in a group message that is getting a bit controversial over which taco place is best. Platforms like Google, Instagram or Facebook has different layouts that's why emojis appear differently.
The examples of using this emoji are given below: "Nice to meet you 🤝" or "Today, I closed an important deal 🤝"
Note: The handshake was formed as part of Unicode 9.0 in 2016 and labeled Emoji 3.0 in 2016.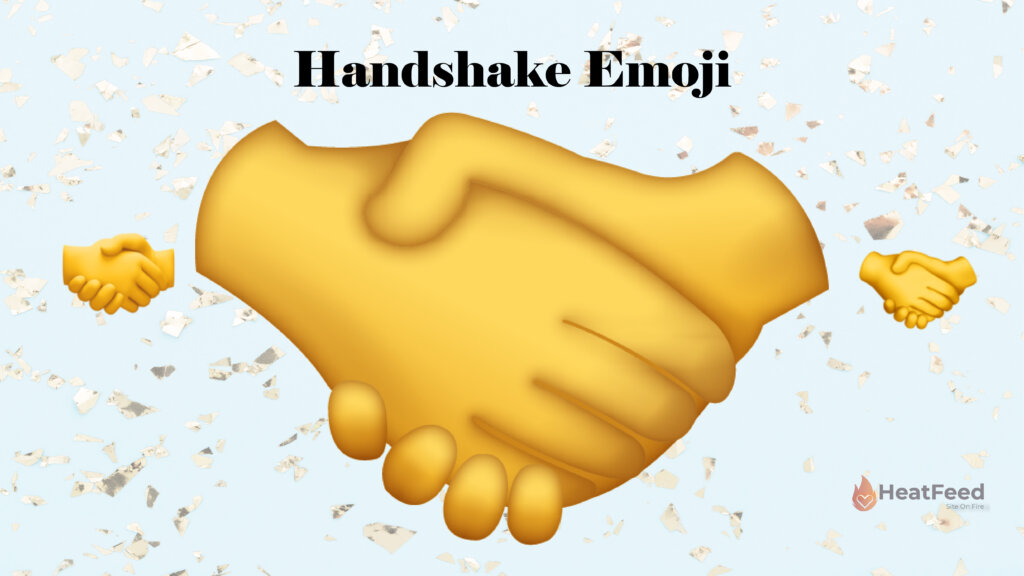 Who uses Handshake Emoji?
People use this emoji if they work on a project with a colleague and have a great time working together. You can use handshake emoji like this:  "Buddy, you are so amazing that it makes  me a lot easier." There are many other situations where you can use this emoji. You can also use this emoji if you are agreed on playing a match with your friends.
Similar Emoji
👊 Left-facing first🤛 Right-facing first 🤜Backhand Index pointing Right 👉Middle Finger🖕Clapping hands👏
🦵Leg, 🦶 🦻Ear with Hearing Ad,👃Nose, 🧠Brain, Anothomical Heart 🫀, Tooth🦷, Eyes👀 , Tongue
Also Known As
🤝Shaking Hands
Apple Name
🤝Handshake
| | |
| --- | --- |
| For Apple Devices Handshake Emoji | |
| For iPhone iOS 14.6 | |
| For iPhone iOS 10.2 | |
| | |
| --- | --- |
| For Google Hand Shake Emoji | |
| For Android 12.0 | |
| For Android 8.0 | |
| For Android 7.0 | |
| | |
| --- | --- |
| For Samsung Hand Shake Emoji | |
| One UL 2.5 | |
| Experience 9.0 | |
| Touch Wiz 7.1 | |
| | |
| --- | --- |
| For Microsoft Handshake Emoji | |
| Windows 10 May 2019 Update | |
| Windows 10 Anniversary Update | |
| | |
| --- | --- |
| For Whats app HandShake Emoji | |
| 2.20.206.24 | |
| 2.19.7 | |
| 2.17 | |
| | |
| --- | --- |
| For Twitter Handshake Emoji | |
| Twemoji 13.1 | |
| Twemoji 2.1 | |
| | |
| --- | --- |
| For Facebook Hand Shake Emoji | |
| 4.0 | |
| 3.0 | |
| 2.0 | |
Codepoints
🤝U+1F91D
Shortcodes
:handshake: (Github, Slack)
hand shake copy and paste
hand shake emoji
shake emoji