😬 Grimacing Face Emoji
Grimacing Face Emoji Meaning:
Emojis were invented as an approach to symbolically represent emotions. Grimacing Face emoji is a yellow face smiley with large, round eyes and a broad, open, tightly-toothed mouth. This emoji conveys awkwardness and a general feeling of unease. The Grimacing Face represents a feeling of utter helplessness and embarrassment, the kind where you just grin and wish you were invisible because you don't know what to do. In a discourse or a circumstance, it expresses a feeling of severe discomfort or even embarrassment.
The emoji Grimacing face or shortly grimace resembles a face with clenched teeth. Because the particular emotion it represents is unclear, everyone interprets it differently — and it fits practically anywhere. It's also frequently used to express perplexity, fussiness, and anxiousness. This emoji is also sometimes used to express eagerness.
NOTE: Grimacing Face was introduced to Emoji 1.0 in 2015 and was approved as part of Unicode 6.1 in 2012. On Snapchat, this emoji next to a contact signifies that you send the most snaps to the same person as they do, indicating that you share a #1 Best Friend.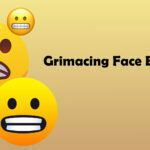 How to copy-paste the grimacing face emoji?
A grimacing face is an awkward face that seems unhappy. It shows irritation through its grinding teeth. This emoji is being used by internet users to show their grim situation. Whenever you feel disturbed you should go and use this emoji to show your frustration. Once you are done you will feel relaxed. If you ever want to copy it then follow the following manner of rules. These rules will help you get the emoji copied.
1. Visit the website called heatfeed. The link is being provided https://heatfeed.com/
2. Research your emoji
3. Replicate it through the copy button
4. Paste it anywhere you like.
Similar Emojis:
There are some other emojis that are similar to 😬 Grimacing Face emoji 😤 Face with Steam From Nose, 🥶 Cold Face, 😁 Beaming Face with Smiling Eyes. Among many others, each emoji passes on a distinct message.
Also Known As
😬 Awkward
😬 Eek
😬 Foot In Mouth
😬 Nervous
😬 Cringe
😬 Made a Mistake
😬 Embarrassment
😬 Snapchat Mutual #1 Best Friend
Apple Name
😬 Grimacing Face
Apple

Apple

iOS 14.6

iOS 10.2

iOS 10.0

iOS 8.3

iOS 6.0
Google

Google

Android 12.0

Android 11.0

Android 8.0

Android 7.0

Android 6.0.1

Android 5.0

Android 4.4
Samsung

Samsung

One UI 2.5

Experience 9.0

TouchWiz 7.1

TouchWiz 7.0

TouchWiz Nature UX 2
Microsoft

Microsoft

Windows 10 May 2019 Update

Windows 10 Fall Creators Update

Windows 10 Anniversary Update

Windows 10

Windows 8.1

Windows 8.0
WhatsApp

WhatsApp

2.21.11.17

2.19.7

2.17
Twitter

Twitter

Twemoji 13.1

Twemoji 2.4

Twemoji 1.0
Facebook

Facebook

13.1

4.0

3.0

2.0
Skype

Skype

Emoticons 1.2
Messenger

Messenger

1.0
Mozilla

Mozilla

Firefox OS 2.5
Codepoints
😬 U+1F62C
Shortcodes
:grimacing: (Github, Slack)
emoji copy and paste
emoji meaning
grimacing face emoji
Smiley Emoji