😳 Flushed Face Emoji
Flushed Face Emoji Meanings:
Emojis were designed to represent feelings symbolically. Flushed Face emoji is a yellow face smiley with lifting eyebrows, a small, closed mouth, wide, white eyes, and blushing cheeks. Its aim is to portray such feelings as embarrassment or confusion, but their meanings vary greatly. Flattery, surprise, disbelief, admiration, affection, and excitement are some of the other senses.
NOTE: The Flushed Face was approved as a part of Unicode 6.0 in 2010 and added to Emoji 1.0 in 2015.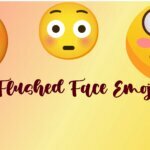 How to copy-paste the flushed face emoji?
The flushed emoji copy and paste are being used to express hatred and anger altogether. Adults like to use this emoji very much when they are required to show their grief. If you need more than 10000 emojis copy and paste the emoji, and do it on heatfeed emoji. By copying your emoji from heatfeed your system would stay active. Follow the given steps.
Visit the site www.heatfeed.com
Search your emoji on the search bar on the right side of the page
Copy it by clicking the emoji copying button.
Now paste it on your page you are working on like Instagram or Facebook.
Similar Emojis:
Other emojis that are almost like the 😳 Flushed Face emoji are 😲 Astonished Face and 😨 Fearful Face. Among many others, each emoji transmits a definite message.
Also Known As
😳 :$
😳 Blushing Face Emoji
😳 Shame
😳 Flushed Emoji
😳 Embarrassed Emoji
😳 Shy Face Emoji
😳 Flush Emoji
😳 Blushed Emoji
😳 emoji
😳 Blush Emoji
Apple Name
😳 Face with Wide Open Eyes
Apple

Apple

iOS 14.6

iOS 10.2

iOS 10.0

iOS 8.3

iOS 6.0

iOS 5.1

iOS 4.0
iPhone OS 2.2
Google

Google

Android 12.0

Android 11.0

Android 10.0

Android 9.0

Android 8.0

Android 7.0

Android 6.0.1

Android 5.0

Android 4.4

Android 4.3
Gmail
Samsung

Samsung

One UI 3.1.1

One UI 2.5

Experience 9.0

TouchWiz 7.1

TouchWiz 7.0

TouchWiz Nature UX 2
Microsoft

Microsoft

Windows 10 May 2019 Update

Windows 10 Anniversary Update

Windows 10

Windows 8.1

Windows 8.0
WhatsApp

WhatsApp

2.21.11.17

2.19.62

2.17
Twitter

Twitter

Twemoji 13.1

Twemoji 12.1.6

Twemoji 1.0
Facebook

Facebook

13.1

4.0

3.0

2.0

1.0
Messenger

Messenger

1.0
Codepoints
😳 U+1F633
Shortcodes
:flushed: (Github, Slack)
emoji copy and paste
emoji meaning
Emoji Smiley
Flushed Face Emoji