😶 Face Without Mouth Emoji
Face Without Mouth Emoji Meaning:
Emojis were used as an approach to symbolically represent feelings. Face Without Mouth emoji is a yellow face smiley with plain, wide eyes and no mouth, as though speechless. The meaning varies, but it usually implies speechlessness, humility, and stillness. Disappointment, frustration, or grief are examples of moderately negative emotions that may be conveyed.
NOTE: Face Without Mouth was supported as a feature of Unicode 6.0 in 2010 and added to Emoji 1.0 in 2015.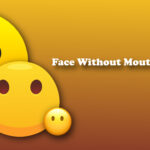 How to copy-paste the face without mouth emoji?
The speechless emoji meaning is such a terrific emoji. It is utilized vastly by internet consumers. The face without mouth emoji copy and paste option is part of many emoji sites. Heatfeed.com has 10000 emojis copy and paste themes. Emoji on this website can be copied/pasted as follows,
Get to the website www.heatfeed.com
Search the favorite emoji on the navigation bar.
Copy the emoji by pressing the copy button right under the emoji.
Paste it at your favorite location on social media.
Similar Emojis:
😶 Face Without Mouth emoji is looks like the 😶‍🌫️ Face in Clouds emoji. Every emoji passes on a one-of-a-kind message, among many others.
Also Known As
😶 Blank Face
😶 Mouthless
😶 Silence
😶 Silent
😶 Speechless
😶 No Comments
😶 Cluelessness
😶 Blank Face
Apple Name
😶 Face Without Mouth
Apple

Apple

iOS 14.6

iOS 10.2

iOS 10.0

iOS 9.1

iOS 8.3

iOS 6.0

iOS 5.1
Google

Google

Android 12.0

Android 11.0

Android 8.0

Android 7.0

Android 5.0

Android 4.4
Samsung

Samsung

One UI 2.5

Experience 9.0

TouchWiz 7.1

TouchWiz 7.0

TouchWiz Nature UX 2
Microsoft

Microsoft

Windows 10 May 2019 Update

Windows 10 Anniversary Update

Windows 10

Windows 8.1

Windows 8.0
WhatsApp

WhatsApp

2.21.11.17

2.19.7

2.17
Twitter

Twitter

Twemoji 13.1

Twemoji 1.0
Facebook

Facebook

4.0

3.0

2.0
Skype

Skype

Emoticons 1.2
Messenger

Messenger

1.0
Codepoints
😶 U+1F636
Shortcodes
:no_mouth: (Github, Slack)
emoji copy and paste
emoji meaning
Face without mouth emoji
Smiley Emoji