🤨 Face with Raised Eyebrow Emoji
Face With Raised Eyebrow Emoji
Raised Eyebrow Emoji Meaning:
Emojis were created to symbolically represent emotions. Face with Raised Eyebrow emoji is a yellow face smiley with furrowed brows, its left eyebrows raised higher than its right. This emoji has a straight mouth without expression. This emoji is inspired by the face of Rock (Dwayne Johnson), which means 'Don't Mes With Me' in its general look. However, apart from that, it expresses a variety of feelings, including suspicion, skepticism, concern, discernment, and disagreement.
NOTE: Face with Raised Eyebrow was added to Emoji 5.0 in 2017 and was approved as part of Unicode 10.0 as "Face with One Eyebrow Raised."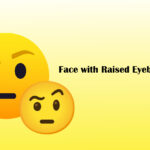 | | |
| --- | --- |
| Emoji: | 🤨 |
| Name: | Face with Raised Eyebrow |
| Meaning: | Doubt, disbelief, confusion, misunderstanding, disagreement, concern, or skepticism |
| Unicode version: | None |
| Emoji and IOS version: | Emoji and IOS |
When was Face with Raised Eyebrow added to Emojis Category?
In 2017, the Face with the Rock Eyebrow Raised emoji was approved under Unicode 10.0 and added to the smiley and emoticon category. This emoji is the classic representation of concern, discernment, and conflict.
How Can I Copy-Paste Face with Raised Eyebrow Emoji?
Now you can copy-paste your favorite emoji with just a few clicks. It became more convenient by using heatfeed.com. You have to just one click to do Raised Eyebrow 10000 emojis copy and paste. Below are the steps that will guide you to copy-paste your favorite emoticon:
First, visit heatfeed.com. Find and click on the emoticon that you want to copy
Click on the copy icon and it will immediately copy on your system
Now you can paste it on any online platform like Facebook, Instagram, Twitter, Whatsapp, etc.
Who uses 🤨 Face with Raised Eyebrow Emoji?
People use this emoticon when they have a question about something or doubt about someone. People mostly use this face with raised the rock eyebrow emoji with 🕵 detective emoji. So most commonly it is used in the negative meaning of doubt as well as confusion. I sent this emoji 🤨 with question mark emoji when my friend says he wants to go fishing on a rainy day.
Lavish combination to use 🤨 Face with Raised Eyebrow Emoji
Lavish combination to place different emojis together and make an impressive and fascinating text. Below are the main and best ideas to use emojis with this emoji and make an authentic impression through it.
I don't think it is a good plan 🤨🤨😒
What are you doing with that bad guy 🤨😡😡
Are you really serious?🤨😒
What are you talking about with her? 😏😏🤨🙄
I think you should check it twice ​🤨​🔎​
Is he really in love with you? 🤨🙄🙄
Oh, really man? 🤨​🙄​😏​🤐​
Similar Emojis:
There are some other emojis that are similar to 🤨 Face with Raised Eyebrow emoji are 😟 Worried Face, 😧 Anguished Face, 😲 Astonished Face, 😕 Confused Face, 😏 Smirking Face, 😒 Unamused Face, 😨 Fearful Face, 😯 Hushed Face, 🤤 Drooling Face, 😵 Dizzy Face, 😢 Crying Face, 🤥 Lying Face, 🤒 Face with Thermometer, 😌 Relieved Face, 😶 Face Without Mouth, 🤫 Shushing Face, and 😳 Flushed Face. Among other things, each emoji conveys a specific message.
Also Known As
🤨 Colbert
🤨 The Rock
Apple Name
🤨 Face with Raised Eyebrow
Unicode Name
🤨 Face with One Eyebrow Raised
🤨 Face with Raised Eyebrow Emoji look across various devices
A face with raised eyebrow emoji as well as all other emoticons looks differently on various devices. Every manufacturer designs emojis according to their vision and specific ideas. You can check out in the given below table how they look on different devices.
Apple

Apple

iOS 14.6

iOS 11.1
Google

Google

Android 12.0

Android 11.0

Android 9.0

Android 8.0
Samsung

Samsung

One UI 2.5

Experience 9.1

Experience 9.0
Microsoft

Microsoft
Windows 10 May 2019 Update

Windows 10 fall Creators Update
WhatsApp

WhatsApp

2.21.11.17

2.19.7

2.17
Twitter

Twitter

Twemoji 13.1

Twemoji 2.3
Facebook

Facebook

4.0

3.0

2.1
Skype

Skype

Emoticons 1.2
Codepoints
🤨 U+1F928
Shortcodes
:face_with_raised_eyebrow: (Slack)
:raised_eyebrow: (Github)
:face_with_one_eyebrow_raised: (Slack)
emoji copy and paste
emoji meaning
Emoji Smiley
Face with Raised Eyebrow emoji