🧐 Face with Monocle Emoji
Face With Monocle Emoji Meaning:
Emojis were designed to represent feelings symbolically. Face with Monocle emoji is a yellow face smiley with one eyebrow raised in a puzzled expression or monoculous look with a small frown on it. This monocle emoji represents focus, concentration, and inspection.
NOTE: In 2017, Face with Monocle had been accepted for Unicode 10.0 and added in 2017 to Emoji 5.0.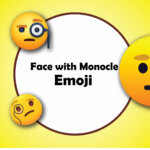 How to copy-paste the face with monocle emoji?
The face with a monocle says a lot about a person. It shows a person speculating or interrogating something. This emoji is adored by many people. This emoji is copied a huge amount as well. If you are intended to do so then you should follow the protocol doing so.
Navigate the website page.
Copy your intended emoji by pressing the button 'copying the emoji'.
Paste it on your writing pad or on social media.
Similar Emojis:
🧐 Face with Monocle emoji looks like 🤒 Face with Thermometer emoji. Among many others, each emoji transmits a special message.
Also Known As
🧐 Investigating
🧐 Focused Look
🧐 Concentrating
🧐 Disbelief
🧐 Skeptical
🧐 Eyeglass Emoji
🧐 Monocle Emoji
🧐 Curious Emoji
🧐 Searching Emoji
Apple Name
🧐 Face with Monocle
Apple

Apple

iOS 14.6

iOS 11.1
Google

Google

Android 12.0

Android 11.0

Android 9.0

Android 8.0
Gmail
Samsung

Samsung

One UI 3.1.1

One UI 2.5

Experience 9.0
Microsoft

Microsoft

Windows 10 May 2019 Update

Windows 10 Fall Creators Update
WhatsApp

WhatsApp

2.21.11.17

2.19.7

2.17
Twitter

Twitter

Twemoji 13.1

Twemoji 2.4

Twemoji 2.3
Facebook

Facebook

13.1

4.0

3.0

2.1
Codepoints
🧐 U+1F9D0
Shortcodes
:face_with_monocle: (Slack)
:monocle_face: (Github)
emoji copy and paste
emoji meaning
face with monocle emoji
Smiley Emoji