😋 Face Savoring Food Emoji
Face Savoring Food Emoji Meaning: 
Emojis were invented as how to symbolically represent feelings. Face Savoring Food emoji is a yellow face smiley with cheerful eyes and a large, closed smile with its tongue protruding from one corner as if it were licking its lips in hunger or contentment. It's a common idiom for expressing how good a food item is. It could also be used to express sentiments of attraction. It is frequently used in response to a joke or a humorous sentence.
NOTE: Face Savoring Food was introduced to Emoji 1.0 in 2015 and was approved as a part of Unicode 6.0 in 2010 under the name "Face Savoring Delicious Food."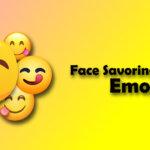 How to copy-paste the face-savoring food emoji?
Face savoring food emoji is such a fantastic emoji. It is used widely by internet users. The face savoring emoji copy and paste feature is found on many emoji sites. Heatfeed.com has 10,000 copy and paste features. Emoji on this site can be copied as,
Visit the website www.heatfeed.com
Search the most-liked emoji on the navigation bar.
Copy the emoji from there by hitting the copy button right under the emoji
Paste your emoji on any social media handler. 
Similar Emojis:
There is 🤤 Drooling Face emoji that look alike 😋 Face Savoring Food emoji. Each emoji among many others contains a distinct message.
Also Known As
😋 Goofy
😋 Yummy
😋 Appetite
😋 Tounge Out
😋 Hungry Face
Apple Name
😋 Smiling Face Licking Lips
Unicode Name
😋 Face Savoring Delicious Food
Apple

Apple

iOS 14.6

iOS 10.2

iOS 10.0

iOS 9.1

iOS 8.3

iOS 6.0

iOS 5.1
Google

Google

Android 12.0

Android 11.0

Android 8.0

Android 7.0

Android 5.0
Android 4.4
Android 4.3
Gmail
Samsung

Samsung

One UI 2.5

Experience 9.0

TouchWiz 7.1

TouchWiz 7.0

TouchWiz Nature UX 2
Microsoft

Microsoft

Windows 10 May 2019 Update

Windows 10 Anniversary Update

Windows 10

Windows 8.1

Windows 8.0
WhatsApp

WhatsApp

2.21.11.17

2.19.62

2.17
Twitter

Twitter

Twemoji 13.1

Twemoji 12.1.6

Twemoji 2.7

Twemoji 1.0
Facebook

Facebook

13.1

3.0

2.0

1.0
Messenger

Messenger

1.0
Codepoints
😋 U+1F60B
Shortcodes
:yum: (Github, Slack)
emoji copy and paste
emoji meaning
Face Savoring Food Emoji
Smiley Emoji