😶‍🌫️ Face in Clouds Emoji
Face In Clouds Emoji Meaning:
Emojis were invented as an approach to symbolically represent feelings. Face in Clouds emoji is a round yellow face smiley with only two black oval-shaped eyes visible through a white cloud covering the rest of the face. This emoji is a literal representation of the well-known phrase "head in the clouds." This ambiguous appearance could represent a foggy state of mind, confusion, or even a state of calm bliss.
NOTE: Face in Clouds emoji copy and paste may be a ZWJ sequence that mixes 😶 Face Without Mouth, Zero Width Joiner, and 🌫️ Fog. These appear as a single emoji on supported platforms. In 2020, Face in Clouds was added to Emoji 13.1 as a new emoji. This emoji was approved in 2020 and was included in the most recent devices in 2021.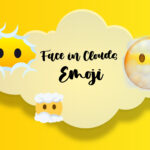 Similar Emojis:
😶‍🌫️ Head in Clouds emoji is like 😶 Face Without Mouth emoji. Among numerous others, every emoji passes on a one-of-a-kind message.
Also Known As
😶‍🌫️ Brain Fog
😶‍🌫️ Forgetful
😶‍🌫️ Haze
😶‍🌫️ Day Dreaming
😶‍🌫️ Absent-Minded
Apple

Apple

iOS 14.6

iOS 14.5
Google

Google

Android 12.0

Android 11.0 December 2020 Feature Drop
Samsung

Samsung

One UI 4.0
Microsoft

Microsoft

Windows 11 November 2021 Update
WhatsApp

WhatsApp

2.21.23.23

2.21.16.20
Twitter

Twitter

Twemoji 13.1
Facebook

Facebook

13.1
Codepoints
😶 U+1F636
U+200D
🌫 U+1F32B
U+FE0F
emoji copy and paste
emoji meaning
face in clouds emoji
Smiley Emoji