😘 Face Blowing a Kiss Emoji
Face Blowing a Kiss Emoji
Blowing Kiss Emoji Meaning:
Emojis were invented to represent feelings symbolically. Face Blowing a Kiss Emoji is a yellow face smiley with a little red heart winking with puckered lips blowing a kiss. May indicate a goodbye kiss or good night kiss, as well as feelings of love and affection in general.
Unlike some other kissing emojis, this one offers a clear hint of its romantic character, therefore it's frequently used as part of a confession of love, particularly when combined with other love- and romance-related emojis. It's also a symbol of flirtation, which commonly comes after a series of comments to someone the user deems beautiful.
Blowing a kiss toward someone says that you are not shy in expressing your love for your loved one. It says you are an extrovert who happens to love your partner very much and would not miss any chance of showing his love for him. That's a good thing to do for your partner.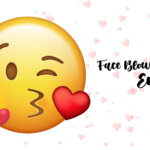 NOTE: Face Blowing a Kiss was introduced to Emoji 1.0 in 2015 and was approved as part of Unicode 6.0 in 210 under the name "Face Throwing a Kiss."
How to copy-paste the face blowing a kiss emoji?
The face-blowing kiss emoji is available at various emoji sites. You can get any emoji you want from heatfeed. Heatfeed is an astonishing website that has 10,000 copy and paste emojis. Follow the steps to copy and paste the emoji.
go to the site www.heatfeed.com to copy the emoji.
No, you need to go to the link. If you click on the button, the emoji shall be copied.
Now, you need to paste the emoji somewhere. So, paste the emoji wherever you like to do so.
Similar Emojis:
There are some other emojis that look alike 😘 Face Blowing a Kiss emoji, 😉 Winking Face, 😍 Smiling Face with Heart-Eyes, 😗 Kissing Face, 😙 Kissing Face with Smiling Eyes, 😚 Kissing Face with Closed Eyes, 😻 Smiling Cat with Heart-Eyes. Each emoji sends a unique message, among many others.
Also Known As
😘 Blow A Kiss
😘 Blowing Kiss
😘 Kissing Face
😘 Affectionate Face
😘 Loving Face
Apple Name
😘 Face Blowing a Kiss
Unicode Name
😘 Face Throwing a Kiss
Apple

Apple

iOS 14.6

iOS 13.1

iOS 10.2

iOS 10.0

iOS 8.3

iOS 6.0

iOS 5.1

iOS 4.0
iPhone OS 2.2
Google

Google

Android 12.0

Android 11.0

Android 8.0

Android 7.0

Android 5.0

Android 4.4

Android 4.3
Samsung

Samsung

One UI 2.5

Experience 9.0

TouchWiz 7.1

TouchWiz 7.0

TouchWiz Nature UX 2
Microsoft

Microsoft

Windows 10 May 2019 Update

Windows 10 Anniversary Update

Windows 10

Windows 8.1

Windows 8.0
WhatsApp

WhatsApp

2.21.11.17

2.19.62

2.17
Twitter

Twitter

Twemoji 13.1

Twemoji 11.1

Twemoji 2.7

Twemoji 1.0
Facebook

Facebook

13.1

3.0

2.0

1.0
Messenger

Messenger

1.0
Codepoints
😘 U+1F618
Shortcodes
:kissing_heart: (Github, Slack)
emoji copy and paste
emoji meaning
Face Blowing a Kiss Emoji
kiss emoji