🤯 Exploding Head Emoji
Exploding Head Emoji Meaning:
Emojis were designed to symbolically represent feelings. Exploding Head emoji is a yellow face smiley with only the bottom half of the head, while the upper half is an illustration of the bursting head of a brain. The bottom half has blank eyes and an uncanny and surprised mouth. This emoji is used to convey sensations of confusion and to show that a new discovery is blowing your mind. Frustration, exhaustion, and mental saturation can also be considered. The literal meaning of this emoji is to have a dividing Headache or migraine.
NOTE: The Head of Explosion was accepted under the name of "Shocked Face with Exploding Head" as part of Unicode 10.0 in 2017 and added to Emoji 5.0 in 2017.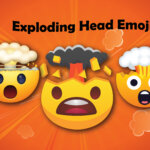 | | |
| --- | --- |
| Emoji: | 🤯 |
| Name: | Exploding Head |
| Meaning: | Mind Blown, Shocked, Surprised, OMG, Amazed, Headache, Frustration |
| Unicode version: | None |
| Emoji and IOS version: | Emoji and IOS |
When was Exploding Head added to the emojis category?
In 2017, the brain exploding emoji was endorsed under the Unicode 10.0 named "Shocked Face with Exploding Head" and then added to the emoji category. It is the classic illustration of being surprised or shocked.
How Can I Copy-Paste Exploding Head Emoji?
By using heatfeed.com you will be able to do Exploding head emoji copy and paste and other 10000 emojis copy and paste. You have to just follow a few steps to copy-paste any emoticon on any online platform like Facebook, Instagram, Twitter, etc.
The first you have to do is go to our website heatfeed.com. Search the emoji that you want to copy and click on it.
Click on the copy icon and it'll immediately copy on your gadget.
Now you can paste it on any online platform without any difficulty.
Who uses 🤯 Exploding Head Emoji?
People use this emoji in response to any shocking news. Sometimes they comment on this emoji to express their stunned feeling. Users also use this emoji when they are talking about headaches and also their long workday.
Lavish combination to use 🤯 Exploding Head Emoji
Lavish combinations are actually a set of emojis that are placed together and give more sense to your text. Below are the ideas to use this exploding head emoji with other emojis:
Did you know some sharks give live births 🦈🤯?
​✍️​👩‍🏫​🤯​ I was studying at that time
​🤯​❤️️​🍃​ His looks make me crazy
It was a horrible day for me 😥🤯
Wait! What are you saying?❓🤯
I can't believe he was a thief. 🤯🤐
Similar Emojis:
🤯 Exploding Head emoji looks like 😮 Face with Open Mouth or 😦 Frowning Face with Open Mouth emoji. Each emoji conveys a specific message, among many others.
Also Known As
🤯 Mind Blown Emoji
🤯 Head Exploding
🤯 Crackhead Emoji
🤯 Shook Face Emoji
🤯 Emoji Head
Apple Name
🤯 Exploding Head
Unicode Name
🤯 Shocked Face with Exploding Head
🤯 Exploding Head Emoji look across various devices
Every emoticon looks differently on various devices. Because, every web service, gadget, or OS manufacturer designs emojis with their own specific ideas and visions. We have compiled a table of the Exploding head emoji so that you can easily check out the difference in the look of this emoji on different platforms:
Apple

Apple

iOS 14.6

iOS 11.1
Google

Google

Android 12.0

Android 11.0

Android 8.0
Samsung

Samsung

One UI 3.1.1

Experience 9.0
Microsoft

Microsoft

Windows 10 May 2019 Update

Windows 10 Fall Creators Update
WhatsApp

WhatsApp

2.21.11.17

2.19.7

2.17
Twitter

Twitter

Twemoji 13.1

Twemoji 12.1.6

Twemoji 2.4

Twemoji 2.3
Facebook

Facebook

13.1

3.0

2.1
Codepoints
🤯 U+1F92F
Shortcodes
:exploding_head: (Github, Slack)
:shocked_face_with_exploding_head: (Slack)
emoji copy and paste
emoji meaning
Exploding Head emoji
Smiley Emoji