Drum Emoji 🥁
Drum Emoji Meaning
One of the short round drums has a wide red rim that is designed with dark spokes at regular intervals. A pair of drumsticks on a white surface held convergently towards it. On the emoji list, like all the other musical instruments.  According to the rhythm and genre it follows, 🥁Drum emoji copy and paste signifies specific meaning of an array of emotions. In fact, this emoji also suggests tempo, beats, and even hip hop just like dance forms. 
It expresses Drumroll, Hip Hop, Rhythm,  Drummer set emoji, Drum Kit, Beats, Tempo, Snare, Drumming. You can show the drum bass music, alliance with the 🎸 Guitar emoji.  Add some 👦 Boy, 👧 Girl,  Music Notes, 🎤 Microphone, drum roll emoji and you will get A CONCERT!  But in general  🥁Drum emoticon is used to show the  the music, beat, and the instrument itself. You'll get the main idea  just remember the Oscar 📽 Movie SPLASH. Appearance of this emoji is different on every platform such as Facebook, Apple or WhatsApp etc.
Note: As part of Unicode 9.0, "Drum with Drumsticks" was approved in 2016 and added to Emoji 3.0 the following year.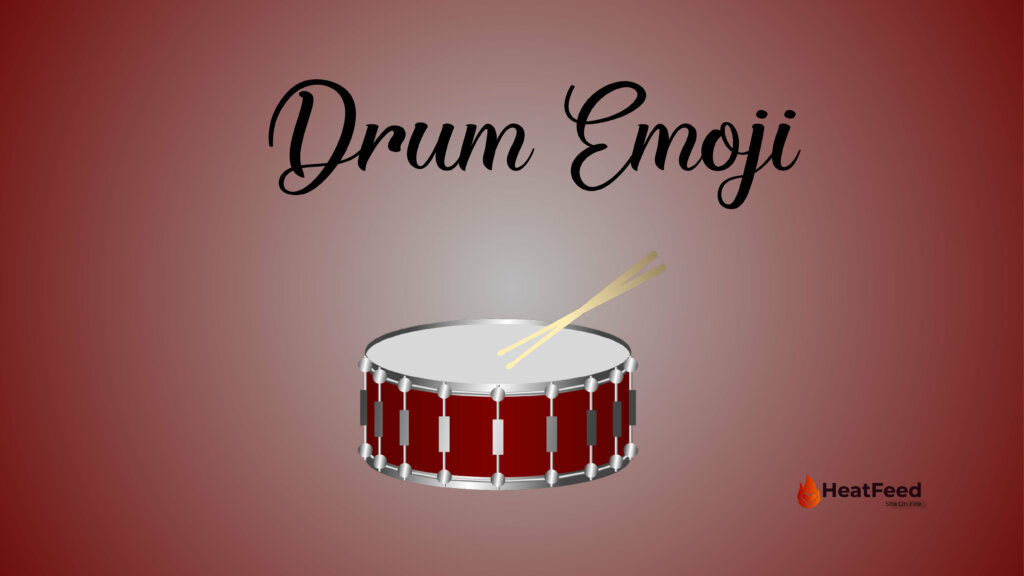 Similar Emoji
🪗 Accordion, 🥫 Canned Food, 🥢 Chopsticks, 🎚️ Level Slider, 🪘 Long Drum, 🛢️ Oil Drum, 🤘 Sign of the Horns, 🎺Trumpet, 🎸 Guitar, 🎤 Microphone, 🎶 Musical Notes, 🎹 Musical Keyboard, 🎼 Musical Score, 🎷 Saxophone, 🎻 Violin, 🪕 Banjo, 🎵 Musical Note, 🤙Call Me Hand, 📯 Postal Horn
Drum Emoji Also Known As
🥁 Snare Drum
🥁 Snare
🥁 Drum and Drumsticks
🥁 Drums
🥁 Drumroll
🥁 Ba Dum Tss
🥁 Drummer
Codepoints
🥁 U+1F941
Shortcodes
:drum: (Github):drum_with_drumsticks: (Slack)
Drum Emoji
emoji
emoji copy and paste