😵 Dizzy Face Emoji
Dizzy Face 😵Emoji Meaning:
Emojis were created as a way to symbolically address feelings. Dizzy Face emoji is a yellow face smiley with a wide-open mouth, raised eyebrows, and 'X's for eyes. As though dizzy emoji stunned to the point of disorientation, may portray a heightened or exaggerated sense of such sentiments as a shock, surprise, disbelief, astonishment, and amazement. This cross eyed emoji copy and paste can also be used to show sickness, intoxication, nausea, and death feelings.
NOTE: The Dizzy emoji was included as a feature of Unicode 6.0 in 2010 and added to Emoji 1.0 in 2015.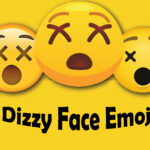 | | |
| --- | --- |
| Emoji: | 😵 |
| Name: | Dizzy Face Emoji |
| Meaning: | dizziness, confusion, drunkenness, trouble, shock |
| Unicode version: | None |
| Emoji and IOS version: | Emoji and IOS |
When was Dizzy Face added to the emojis category?
In 2010, The Dizzy emoji was endorsed under the Unicode 6.0 and then added to the smiley and emoticon category in 2015. It is the classic illustration of confusion.
How Can You Copy-Paste Dizzy Face Emoji?
You can efficiently do Dizzy Face Emoji copy and paste by using heatfeed.com. You have to do a few steps to copy-paste any of your favorite emojis. The below steps are involved 10000 emojis copy and paste.
Visit heatfeed.com. Search for the emoji you want to copy and click on it.
Click on the copy icon and it'll immediately copy to your gadget.
Now you're able to paste it on any online media.
Who uses 😵 Dizzy Face Emoji?
The face with Spiral eyes emoji is used to express extreme dizziness, drunkenness, and other forms of confusion. This emoji is sometimes placed together with the Woozy Face emoji, which have similar utilization.
See, I can't even type correctly. I am still dizzy. 😵😲
Lavish combination to use 😵 Dizzy Face Emoji:
Lavish combinations are a set of different emojis that are placed together to convey your feelings in a unique way. Below are the ideas to use fainting emoji copy and paste with various Emoticon to create your text more adorning.
I love her smile, when she took off her mask makes me really dizzy 😵😍💖
This situation makes me annoying 😵
I can't believe, he is doing this to me 😵😮‍💨
Excuse me, what the fu*k is this situation😵‍💫🥴😵
I'm totally speechless in front of her 😨😵‍
​😵​👨​🚶​😨 Deadman walking
​😵🥴​💀​🙊​ barely survived
​🧙‍♀️​😵​🥴 you are under my hypnosis
Similar Emojis:
😲 Astonished Face and 😵‍💫 Face with Spiral Eyes emoji are similar to the 😵 Dizzy Face emoji. Every emoji conveys a specific message, among numerous others.
Also Known As
😵 Cross Eyed Emoji
😵 X Eyes Emoji
😵 Fainting Emoji
😵 Spiral Eyes Emoji
😵 Face with Crossed Out Emoji
Apple Name
😵 Dizzy Face
😵 Dizzy Face Emoji look across various gadgets
Every emoji looks differently on different online platforms because every manufacturer of emojis designs them according to their unique ideas and sources. You can easily check out the difference in the appearance of the emoticon in the below table:
Apple

Apple

iOS 14.6

iOS 10.2

iOS 10.0

iOS 8.3

iOS 6.0

iOS 5.1
Google

Google

Android 12.0

Android 11.0

Android 8.0

Android 7.0

Android 5.0

Android 4.4

Android 4.3
Gmail
Samsung

Samsung

One UI 3.1.1

One UI 2.5

Experience 9.0

TouchWiz 7.1

TouchWiz 7.1

TouchWiz Nature UX 2
Microsoft

Microsoft

Windows 10 May 2019 Update

Windows 10 April 2018 Update

Windows 10 Anniversary Update

Windows 10

Windows 8.1

Windows 8.0
WhatsApp

WhatsApp

2.21.11.17

2.19.7

2.17
Twitter

Twitter

Twemoji 13.1

Twemoji 1.0
Facebook

Facebook

13.1

4.0

3.0

2.0

1.0
Messenger

Messenger

1.0
Codepoints
😵 U+1F635
Shortcodes
:dizzy_face: (Github, Slack)
dizzy face emoji
emoji copy and paste
emoji meaning
Smiley Emoji