😞 Disappointed Face Emoji
Disappointed Face Emoji Meaning:
Emoji faces were designed to represent feelings symbolically. The disappointed Face emoji is a yellow face smiley with sunken, closed eyes and a sad-looking curve for a mouth. The disappointed emoji meaning is frequently used to express negative feelings, such as disappointment, grief, tension, sorrow, sadness, and regret.
This disappointed emoji face 😞 is also used in a combination of 😒 an unamused face. Both of them show the same meanings of being depressed and sad along with some regrets. Usually, social media platforms offer a disappointed face emoji copy and paste option. Such emojis add meaning to your normal conversations. Some of the social websites offer up to 10000 emojis copy and paste facilities to their users.
NOTE: Disappointed Face was added to Emoji 1.0 in 2015 after being approved as part of Unicode 6.0 in 2010.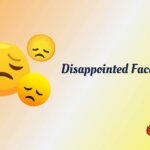 How to Copy and Paste the Disappointed Face Emoji?
It is not a very difficult task to copy and paste the desired emojis by using heatfeed.com website. there are a number of such emojis that can you copy and paste anywhere on social media platforms to add meaning to your normal texts and conversations to make them effective and attractive. There are some simple and easy steps that you have to follow for disappointed emoji copy and paste and also for copying and pasting the desired emojis:
First of all, you have to explore the heatfeed.com website on your device.
Enter the appropriate keywords in the search bar of the website for your desired emoji.
You have to click on the ''Copy'' icon and it will be copied.
Now the emoji is successfully copied.
The copied emoji is quite ready to paste on any of the desired and required social media platforms for making your conversations effective and efficient. You can also paste such emojis in comments and in your profiles as well as in bios.
Similar Emojis:
😞 Disappointed Face emoji is similar to 😟 Worried Face, and 😓 Downcast Face with Sweat emoji. Each emoji sends out a unique message, among many others.
Also Known As
😞 🙁
😞 Sad Emoji
Sorry Emoji 😞
Upset Emoji 😞
😞 Disappointed Emoji
Distressed Emoji 😞
😞 Sad Face
Apple Name
😞 Disappointed Face
Apple

Apple

iOS 14.6

iOS 10.2

iOS 10.0

iOS 8.3

iOS 6.0

iOS 5.1

iOS 4.0
iPhone OS 2.2
Google

Google

Android 12.0

Android 11.0

Android 9.0

Android 8.0

Android 7.0

Android 5.0

Android 4.4

Android 4.3
Gmail
Samsung

Samsung

One UI 3.1.1

Experience 9.1

Experience 9.0

TouchWiz 7.1

TouchWiz 7.0

TouchWiz Nature UX 2
Microsoft

Microsoft

Windows 10 May 2019 Update

Windows 10 Anniversary Update

Windows 10

Windows 8.1

Windows 8.0
WhatsApp

WhatsApp

2.21.11.17

2.19.7

2.17
Twitter

Twitter

Twemoji 13.1

Twemoji 11.1

Twemoji 1.0
Facebook

Facebook

13.1

4.0

3.0

2.0

1.0
Messenger

Messenger

1.0
Codepoints
😞 U+1F61E
Shortcodes
:disappointed: (Github, Slack)
disappointed face emoji
emoji copy and paste
emoji meaning
Smiley Emoji