🏜️ Desert Emoji
Desert Emoji Meaning
The 🏜️ desert emoji shows sunny desert. These types of places have extreme levels of dryness due to a lack of water.
A desert is a place that is very cold at night and painfully hot during the day.  It's dry,  desolate, and big.  It could also feature a mirage or oasis. A variety of feels can also be present in the desert i.e; western deserts, Asian deserts, and middle eastern deserts are all very different. This emoji is more connected with a western desert. The 🏜️ desert emoji shows the sand, a cactus 🌵, sun, and sometimes a desert mountain. The positions of objects on different platforms are somewhat different and the huge sun 🌞 seems to be in front of you. 
Generally, it represents decertified terrain or countries or areas with large deserts such as Arabia and Africa. It can also be used at that time when a person is tired 😫, or in a desperate situation, and has no thoughts. The 'desert' emoji 🏜️ is a special symbol that can be used on tablets, smartphones, and computers.
Note: In 2014, the Desert Emoji was added to the Travel & Places category as part of the Unicode 7.0 standard.  It should work on most devices and it is also a mature device.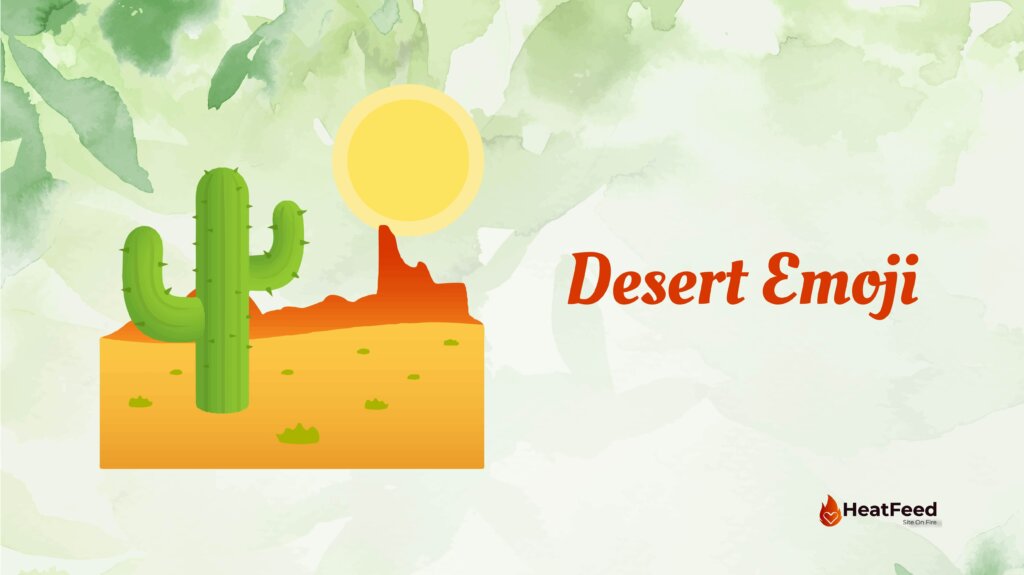 How to copy and paste Desert emoji?
You can easily desert emoji copy and paste by visiting our website Heatfeed. You have to follow some steps that are as follows:
Visit our website Heatfeed.com. And search out the emoji that you want to copy
Click on the copy icon it would be automatically copied to your clipboard. 
Now paste the emoji where you want. Like Facebook, Instagram or Twitter, etc.
Similar Emoji
🐫 Two-Hump Camel, 🌵 Cactus, 🐪 Camel, 🇩🇿 Flag: Algeria, 🇧🇭 Flag: Bahrain, 🇧🇴 Flag: Bolivia, 🇧🇫 Flag: Burkina Faso, 🇪🇬 Flag: Egypt, 🇲🇱 Flag: Mali, 🇲🇦 Flag: Morocco, 🇹🇳 Flag: Tunisia, 🇪🇭 Flag: Western Sahara, 🛖 Hut, 🧗 Person Climbing, 🦂 Scorpion,♏ Scorpio, ☀️ Sun, 🏝️ Desert Island, ♨️ Hot Springs, 🐎 Horse
Apple Name
🏜️ Desert
Codepoints
🏜 U+1F3DC
U+FE0F
Shortcodes
:desert: (Github, Slack)
desert emoji
emoji
emoji copy and paste