😕 Confused Face Emoji
😕 Emoji Meaning:
Emojis were used to represent emotions symbolically. The confused Face emoji is a yellow Face smiley with a slanted frown on a face that appears to be scrunching its cheeks or chewing its lips. It is usually used for a feeling of confusion or uncertainty. The confused emoji is commonly used for expressing misunderstanding, depression, light sorrow, and deception.
NOTE: Confused Face was added to Emoji 1.0 in 2015 after being approved as part of Unicode 6.1 in 2012.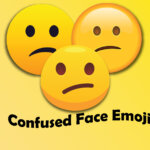 How to copy-paste the confused face emoji?
The confused face emoji is meant to show confusion and misunderstanding feelings. This confused face copy and paste emoji are mainly used by people who get confused easily. If you are interested in copying, copy from a website that you think is not affected by your computer. If you copy and paste the emoji, the heatfeed protects your system. Consider the following steps as needed.
1. Visit the website www.heatfeed.com
2. Search for your favorite emoji in the navigation bar.
3. Then copy the emoji you want most.
4. Paste into notepad or WhatsApp web.
Similar Emojis:
😕 Confused Face emoji is look-alike 😞 Disappointed Face emoji. Each emoji conveys a special message among many others.
Also Known As
😕 Nonplussed
😕 Puzzled Face Emoji
😕 Confused Emoji
😕 Unsure Emoji
😕 Lost Emoji
😕 :S
Apple Name
😕 Confused Face
Apple

Apple

iOS 14.6

iOS 10.2

iOS 10.0

iOS 8.3

iOS 6.0
Google

Google

Android 12.0

Android 11.0

Android 10.0

Android 8.0

Android 7.0

Android 5.0

Android 4.4
Gmail
Samsung

Samsung

One UI 3.1.1

One UI 2.5

Experience 9.1

Experience 9.0

TouchWiz 7.1

TouchWiz 7.0

TouchWiz Nature UX 2
Microsoft

Microsoft

Windows 10 May 2019 Update

Windows 10 Anniversary Update

Windows 10

Windows 8.1

Windows 8.0
WhatsApp

WhatsApp

2.21.11.17

2.19.7

2.17
Twitter

Twitter

Twemoji 13.1

Twemoji 1.0
Facebook

Facebook

13.1

4.0

3.0

2.0
Messenger

Messenger

1.0
Codepoints
😕 U+1F615
Shortcodes
:confused: (Github, Slack)
confused face emoji
emoji copy and paste
emoji meaning
Smiley Emoji