🥶 Cold Face Emoji
Cold Face Emoji Meaning: 
Emojis were designed as a way to symbolically address emotions. The cold Face emoji is an icy-blue face smiley with clenched teeth, icicles stick to the cheekbones or jaw, as though frozen from the intense cold. This blue emoji face conveys a general feeling of coldness, whether it's due to the weather, a circumstance, or a person. This cold emoji is most commonly used in response to something offensive, unpleasant, or harsh.
NOTE: In 2018, Emoji 11.0 added this cold emoji under the name "Overheated Face" and Unicode 11.0 included this feature in 2018.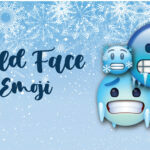 | | |
| --- | --- |
| Emoji: | 🥶 |
| Name: | Cold Face |
| Meaning: | Coldness, freezing, frostbitten |
| Unicode version: | None |
| Emoji and IOS version: | Emoji and IOS |
When was Cold Face added to the emojis category?
In 2018, the freezing face emoji was approved under Unicode 11.0 and then added to the emoji category. It is the classic illustration of freezing or coldness.
How Can I Copy-Paste Cold Face Emoji?
You can easily do cold face emoji copy and paste by using heatfeed.com. You have to just do a few clicks and your favorite emoji will copy on your device. After that, you can easily paste them on any online platform like Facebook, Instagram, Whatsapp, etc.
Visit heatfeed.com. Find the emoticon that you want to copy and click on it.
Click on the copy icon and that emoji will automatically copy onto your device.
Now you are able to paste it on any online platform.
Who uses 🥶 Cold Face Emoji?
People use this emoji when they are talking about the cold weather. Sometimes people use this emoji when they show that someone is frostbitten or freezing. The users also use this cold face emoji with the tea emoji to say that they want tea in this cold weather.
Lavish combination to use 🥶 Cold Face Emoji
Levish combos are actually a set of different emojis that are placed together to make your text more impressive. Below are the ideas to use this cold face emoji with other emojis:
Man, I got 🥶😲🥶 from the fear I felt in that woodland! 
I can't sleep in this cold weather 🥱🥶
​🍧​🥶​🍦​ ice cream in this cold weather cooled my brain
It's freezing here 🥶❄️❄️
I love the winter season but this time it made me freeze 🥶❄️
Similar Emojis:
The emoji 🥶 Cold Face is related to the 🥵 Hot Face emoji. Every emoji among many others conveys a special message.
Also Known As
🥶 Cold Emoji
🥶 Snow Face
🥶 Blue Emoji Face
🥶 Freezing Emoji
🥶 Winter
🥶 Chilled
🥶 Numb
Apple Name
🥶 Freezing Face
🥶 Cold Face Emoji look across various devices
The appearance of every emoticon varies with the different platforms. Because, every OS, gadget, and web services manufacturer designs them according to their own ideas and visions. We have gathered a table below for you. So, you can check out the difference in the appearance of a cold face emoji.
Apple

Apple

iOS 14.6

iOS 12.1
Google

Google

Android 12.0

Android 11.0

Android 9.0
Samsung

Samsung

One UI 3.1.1

One UI 1.0

Experience 9.5
Microsoft

Microsoft

Windows 10 May 2019 Update

Windows 10 October 2018 Update
WhatsApp

WhatsApp

2.21.11.17

2.18.379
Twitter

Twitter

Twemoji 13.1

Twemoji 11.0
Facebook

Facebook

13.1

4.0

3.0
Codepoints
🥶 U+1F976
Shortcodes
:cold_face: (Github, Slack)
cold face emoji
emoji copy and paste
emoji meaning
Smiley Emoji