🤎 Brown Heart Emoji
Brown Heart Emoji Meaning:
A brown heart emoji is used to elaborate on topics related to radical identities like 🧑🏽🧑🏾🧑🏿. The brown heart is used to express affection, feelings of love, and, close bonds. A brown emoji in texting means a strong and sweet love that stands the test of time.
You can use brown emojis with 🍫 Chocolate emoji to show your love for the chocolate. You can also send this brown emoji heart with the shopping trolley and 🍫 Chocolate emoji to ask if someone can buy you a lot of chocolates. People also use this emoji with the 😍 Smiling Face With Heart-Eyes emoji to express their love feelings for a specific person.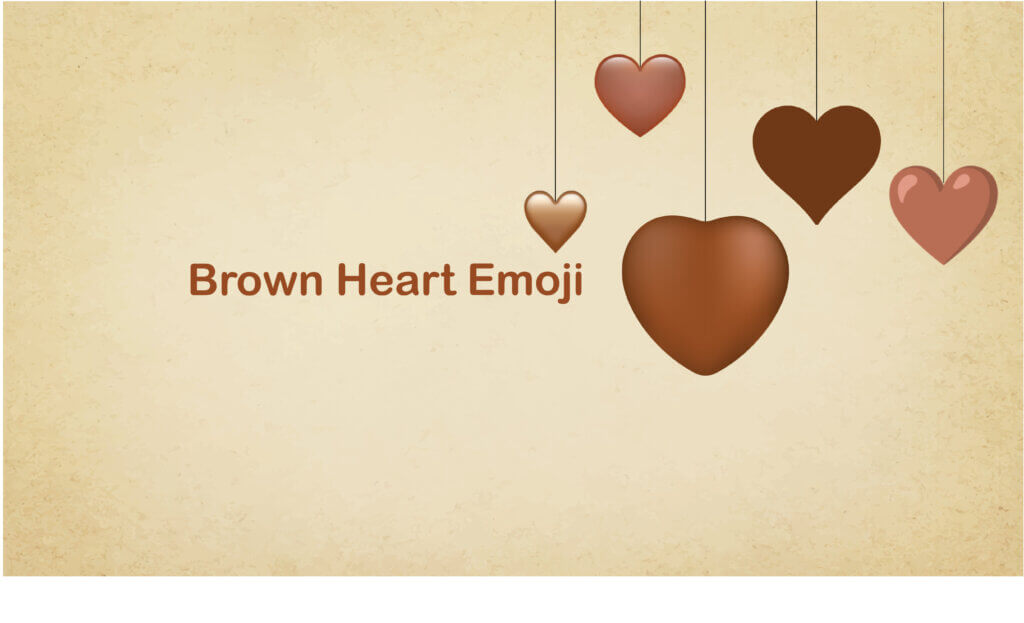 | | |
| --- | --- |
| Emoji: | 🤎 |
| Name: | Brown Heart Emoji | Tan Heart Emoji | Beige Heart Emoji |
| Meaning: | Likeness, Romance, Love, Affection |
| Unicode Version: | Unicode 12.0 |
| Emoji and iOS Version: | Emoji 12.0 and iOS 14.6 |
When was Brown Heart added to the emojis category?
In 2019, the brown heart was endorsed under Unicode 12.0, and later on, it is added to the smiley and hearts emoji category. This emoji is basically representing affection and love.
How Can You Copy-Paste Brown Heart Emoji?
It became very easy for you to 10000 heart emoji copy-paste by using our site. You have to just follow a few steps to instantly copy your desired emoji. Below are the steps that guide you to copy-paste any emoji with Heatfeed.
Firstly, visit our website heatfeed.com. Find the emoji that you want to copy and click on it.
Click on the brown heart emoji copy icon.
Who uses 🤎 Brown Heart Emoji?
The Brown heart emoji is also used to express love just like the other heart emojis. Most generally people use this emoji in their private conversations to express their romantic feelings. Most girls use this emoji to ask their loved ones for chocolates. Other than these meanings people use this brown love heart to show their support and equality for people of this color.
Lavish combination to use 🤎 Brown Heart Emojis:
Lavish combinations are a set of various emojis placed together to make your message more impressive and meaningful. Below are the ideas to use brown hearts with other emojis:
You are valued and your life matters 🤎👨🏿
Where is my chocolate sweety? 🤎🍫
Would it be too much difficult for you to get some chocolate home? Thanks! 🤎🍫🙄
​🤎​🖌️​ color the heart
I want to cuddle with you right now 💑🏻🤎
Similar Emojis:
There are a lot of similar names such as 💛 Yellow Heart emoji, heart with arrow 💘, growing heart 💗, heart with ribbon 💝, couple with heart 💑, orange heart emoji 🧡, beating heart emoji 💓, purple heart 💜, revolving heart 💞, white heart 🤍, black heart 🖤, green heart 💚, red heart ❤️ emoji, two hearts 💕, broken heart 💔, blue heart 💙, heart on fire emoji ❤️‍🔥, and many others emojis in which each particular heart emoji has a specific message. Our website heatfeed.com facilitates you with brown emoji copy and pastes with a variety of colored heart emojis. You can also get emoji meanings, Unicodes, and shortcodes related to any emoji.
Apple Name
🤎 Brown Heart
🤎 Brown Heart Emoji look across various gadgets
The heart brown emoji and other emojis look different on different devices. Because every manufacturer of emoticons designs them according to their ideas and sources. You can easily check out the difference in the appearance of brown hearts on different platforms in the given table:
Apple
iOS 14.6
iOS 13.3
Google
Andriod 12.0
Android 11.0
Android 10.0
Samsung
One UI 2.5
One UI 1.5
Microsoft
Window 10 May 2019 Update
WhatsApp
2.20206.24
2.19.352
Twitter
Twemoji 13.1
Twemoji 12.0
Facebook
4.0
Codepoints
🤎 U+1F90E
Shortcodes
:brown_heart: (Slack, Github)
brown heart
brown heart emoji
brown heart emoji meaning
heart copy and paste